Dr. Michael Cavanaugh - DVM 1983
2012 DISTINGUISHED ALUMNUS AWARD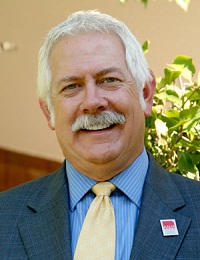 Dr. Michael Cavanaugh of Evergreen, Colorado, was the recipient of the 2012 Distinguished Alumnus Award. This award recognizes veterinarians who have had an outstanding career, contributing to the success of the veterinary profession through service and professional organizations. The award was presented as part of the 74th Annual Conference for Veterinarians on June 3, 2012.
Dr. Cavanaugh is the executive director and chief executive officer for the American Animal Hospital Association (AAHA) in Lakewood, Colo. AAHA is the only accrediting body in North America for small-animal and specialty veterinary practices. AAHA's membership includes nearly 3,400 accredited practices, all of which voluntarily choose to be evaluated by AAHA every three years, maintaining their commitment to adhering to the highest standards of care in the industry. In addition, it has more than 2,000 non-accredited practices (including all of the practice team members) and AAHA student members. The total membership includes more than 48,500 individuals.
Originally from Topeka, Kansas, Dr. Cavanaugh earned his DVM from K-State in 1983. After graduation, he worked in a mixed practice in Illinois, and then small animal practices in Denver, Colo. In 1988, he founded West Ridge Animal Hospital in Topeka, Kan., which became an accredited member of the American Animal Hospital Association (AAHA). In 1993, Dr. Cavanaugh began working as a consultation clinician in the Veterinary Consultation Service at Hill's Pet Nutrition, Inc. Since he was still working in his private practice, he brought a much-needed practitioner's perspective into the world of corporate veterinary medicine. In 1996, Dr. Cavanaugh sold West Ridge Animal Hospital and became a technical services veterinarian, and later the director of medical and technical consultation, with the HESKA Corporation in Fort Collins, Colo. He completed the Veterinary Management Institute in 1996, earning a certificate in Veterinary Practice Administration from the Krannert School of Business at Purdue University, and the American Animal Hospital Association. In 2000, Dr. Cavanaugh joined Pfizer Animal Health in Fort Collins, Colo., as the area veterinarian for the Rocky Mountain Area. During his ten-year career at Pfizer, Dr. Cavanaugh took on roles of increasing responsibility, and was eventually the director of veterinary hospital services, which included a team of 50 people, including veterinarians, veterinary specialists and veterinary technician specialists.
"Anytime one is recognized by their peers for contributions they have made to their profession it is an honor," Dr. Cavanaugh said. "When one is recognized by their alma mater it is both an honor and a humbling experience at the same time. My veterinary education from Kansas State prepared me for the various roles I have played throughout my career. I'll never forget Dr. Dan Upson, who taught pharmacology, saying, 'Your veterinary degree is nothing more than a license to embark on a lifetime of learning.' That has certainly been my experience. I couldn't have become the executive director and CEO of AAHA without the collective experience and learning that came with my various jobs over the years. I find the journey continues as I learn new things every day."
"This marks the second occasion in which our college has recognized Dr. Cavanaugh with an alumni award, the first being 10 years ago at the Western Veterinary Conference in Las Vegas," said Dr. Ralph Richardson, dean of the College of Veterinary Medicine. "Since that time, he has continued to make a profound impact on the animal health profession in numerous capacities. It is fitting then, that we recognize Dr. Cavanaugh with the award during our Heritage Evening celebration, here at K-State."
Dr. Cavanaugh achieved diplomate status with the American Board of Veterinary Practitioners (canine and feline) in 1998 and was re-certified in 2007. He is a professional proponent of organized veterinary medicine, and is a member of numerous organizations, including: American Veterinary Medical Association, American Animal Hospital Association, Kansas Veterinary Medical Association, Colorado Veterinary Medical Association, Denver Area Veterinary Medical Society, American Association of Feline Practitioners, American Board of Veterinary Practitioners and the American Association of Corporate and Public Practice Veterinarians.
Dr. Cavanaugh has been recognized with several awards for his professional accomplishments, including the 2002 Alumni Recognition Award from the Kansas State University Veterinary Alumni Association, 2009 Industry Partner of Year from the Colorado Veterinary Medical Association and the 2011 Pioneer Professional Award from VetPartners.

Dr. Cavanaugh and his wife, Beth, have been married for 32 years and are the proud parents of two children: Caitlyn and Kevin. They share their home with a border collie named Zoe (the executive "dogrector" of AAHA) and a cat named June.