Dr. William C. Bergin - DVM 1967
2022 Distinguished Alumnus Award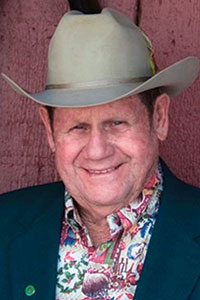 Dr. William C. Bergin, Kamuela, Hawaii, has been selected by the Kansas State University College of Veterinary Medicine's Alumni Association for a 2022 Distinguished Alumnus Award. This award is in recognition of his outstanding achievements, humanitarian service and contributions to the veterinary profession. The award will be presented June 5 during the college's Alumni Reunion Weekend.
Dr. Billy Bergin holds a bachelor's degree in agriculture in 1963, bachelor's degree in biological science in 1965, Doctorate in Veterinary Medicine in 1967 and master's degree in physiology in 1968, all from Kansas State University.
Dr. Bergin established three veterinary practices between 1968-2020: West Hawaii Animal Clinic, Veterinary Associates Inc., and Aina Hou Animal Hospital. From 1970 to 1995, he was the lead veterinarian for the Parker Ranch, one of the largest and oldest cattle ranches in the United States. He currently serves as an honorary member of the American Veterinary Medical Association, American Association of Equine Practitioners and Hawaii Veterinary Medical Association.
"Wife Pat joins me in extending enduring aloha for the institution, Kansas State University and the people of the great state of Kansas," Dr. Bergin said. "We are proud parents of our two older children Erin and Bill, born in the verdant Flint Hills who forever tie us to Kansas. Beyond any doubt, the College of Veterinary Medicine prepared me well for a 55-year career in serving the animal health needs of Hawaii."
"Dr. Bergin's contributions to strengthen the veterinary profession in Hawaii have been immense," said Dr. Bonnie Rush, Hodes Family Dean. "Through his career, he has worked extensively in equine and livestock health. Dr. Bergin has become as a local historian, whose books provide a valuable resource to veterinarians and Hawaiian history aficionados. He has provided tremendous public service to his community and to higher education in Hawaii. We are delighted to present with an award to celebrate his many accomplishments."
Dr. Bergin is a charter member of the National Cattlemen's and Beef Association and a member of Hawaii Cattlemen's Association since 1968. He established the Hawaii High School Rodeo Association in 1988 and served as Hawaii director for 15 years and served as president of the National High School Rodeo Association. He served as the West Hawaii representative on the University of Hawaii Board of Regents from 1998 to 2002.
In 1998, Dr. Bergin founded the Paniolo Preservation Society, a nonprofit foundation with the mission of preserving the rich heritage of the livestock industry and ranch life in the Hawaiian Islands. From 2003 to 2009, he was on the board of directors of the Rodeo Historical Society of the National Cowboy and Western Heritage Museum in Oklahoma City, Oklahoma. He served on the museum's board of directors since 2010 to present.
An established author since 2003, Dr. Bergin has authored six books covering Hawaii's role in the ranching industry and currently has a seventh text in publication with the University of Hawaii Press. He was awarded an Historic Preservation Medal from the Hawaii Chapter of the National Society of the Daughters of the American Revolution in 2016.
In addition to historical books, Dr. Bergin has written articles on veterinary medicine that have appeared in the Journal of the American Association of Equine Practitioners, Veterinary Medicine/Small Animal Clinician, Journal of the Hawaii Medical Association, Cornell Veterinarian and Journal of the American Veterinary Medical Association.
Dr. Bergin was a member of the American Association of Bovine Practitioners from 1972 to 1995. He currently sits on the Mauna Kea Management Board in an advisory capacity, and he served on the County Charter Commission from 2018 to 2020. He received an alumni recognition award from the Kansas State University College of Veterinary Medicine in 2008, presented during the conference of the American Association of Equine Practitioners.
Dr. Bergin is married to Patricia (Cockett), who received a bachelor's degree in 1964 and a master's degree in 1968 from the College of Education at K-State. The Bergins have three sons: William, Holi (deceased) and Brady; a daughter, Erin; and two hanai children: Kathleen Kaaua Schwartze and Christopher Kaaua. Brady, who earned a DVM from Colorado State University in 2002, took over his father's practice in 2007, and in 2013, joined the faculty, now an associate professor, at the University of Minnesota College of Veterinary Medicine in its Department of Veterinary Population Medicine.