Dr. Guy H. Palmer - DVM 1980
2009 Distinguished Alumnus Award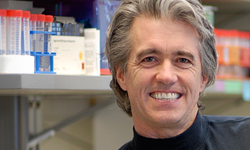 Dr. Guy H. Palmer, Pullman, Washington, received the 2009 Distinguished Alumnus Award from the K-State College of Veterinary Medicine and its Veterinary Medicine Alumni Association.

The award was presented Monday, June 8, 2009 as part of the activities at the 71st Annual Conference for Veterinarians at K-State. The Distinguished Alumnus Award is given to a veterinarian who has had an outstanding career and who has contributed to the success of the veterinary profession through service and professional organizations.

"It is a tremendous honor to be chosen for this award by my peers and fellow alumni," said Dr. Palmer, who is the Regents Professor of Pathology and Infectious Diseases and director of the School for Global Animal Health at Washington State University. "My veterinary medical education was truly life-changing and I am deeply grateful to the faculty, staff, and my former classmates. The mark of a truly outstanding university education is that it does much more than provide you with tools, it also expands your vision-that describes exactly how K-State challenged and influenced my career."

Dr. Ralph Richardson, dean of the College of Veterinary Medicine, said, "We are thrilled to formally recognize Dr. Palmer's career. He is clearly a world-renowned leader in disease research with an impeccable reputation and a deep commitment to improving human and animal health. This award is very well-deserved – and relevant due to the growing awareness of veterinary research related to global health issues."

Dr. Palmer's goal as a researcher is to improve control of animal diseases with direct impact on human health and well-being. Within this focus, he has led collaborative research programs on infectious disease in southern and eastern Africa, the Middle East and Latin America, where he currently directs a multi-institutional research effort studying genetic change in microbial pathogens and the risk for shifts in disease pattern and emergence.

For his research at the interface of animal disease and human public health, Dr. Palmer was elected to membership in the National Academy of Sciences and is a current member of the Global Health Group within the Institute of Medicine. Additionally, Dr. Palmer is a member of and serves on the Board of Directors of the Washington State Academy of Science, which provides expert scientific and engineering analysis to inform public policy-making. Dr. Palmer has been recently recognized with the Merck Award for Creativity, Schalm Lectureship at the University of California, NIH Distinguished Scientist Lecture, Sahlin Award for Research, Scholarship and the Arts, and Fellow of the American Association for the Advancement of Science.

Currently, Dr. Palmer serves as an adviser to the U.S. National Institutes of Health, Wellcome Trust in the U.K., International Science Foundation and the Bill and Melinda Gates Foundation. Dr. Palmer received his bachelor's degree summa cum laude in 1977 and DVM in 1980, both from Kansas State University, and a doctorate in pathology from Washington State University in 1984. He is board-certified in anatomic pathology. Dr. Palmer is married to Diane Lee Palmer.