Dr. John L. Noordsy - DVM 1946
2010 Distinguished Alumnus Award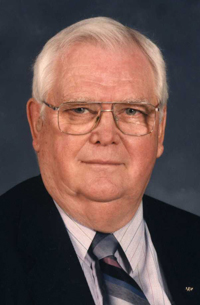 Dr. John L. Noordsy, Sioux Falls, South Dakota, was the 2010 recipient of the Distinguished Alumnus Award. The award was presented as part of the 72nd annual Conference for Veterinarians on June 6, 2010.
Dr. Noordsy is an internationally recognized veterinary surgeon with an emphasis on bovine surgery. His career spans 62 years and involves postgraduate regulatory work and private practice in food animal medicine and surgery. He practiced in Marion, South Dakota, in a mixed animal practice for 13 years. Dr. Noordsy joined the K-State veterinary faculty in surgery and large animal medicine in 1960. He served from 1976 through 1984 as assistant dean of the college and, in the 1987-88 school year, was acting dean. He retired in 1990 as associate dean of Academic Affairs and Alumni Relations.
"I am honored and humbled to receive this award," Dr. Noordsy said. "I am proud to have been the beneficiary of a fine professional education at K-State and strove to pass that tradition along to both students and colleagues that I had the pleasure of knowing during my academic career. I have seriously accepted the promises embodied in the veterinarian's oath while practicing my profession. I am thankful for my family and academic heritage which enabled me to fully appreciate my Creator's role as 'Healer.' It has allowed me to faithfully serve both man and animal during my veterinary career."
Dr. Noordsy received his early education at a rural, one-room elementary school and rural high school. He earned a bachelor's degree from South Dakota State College, Brookings, in 1944. Dr. Noordsy received his DVM from K-State in 1946 in an accelerated degree program and a master's degree in pathology from K-State in 1962, although he also performed part of his graduate studies on poultry viral diseases at Iowa State University, Ames, from 1946-1948.
"Dr. Noordsy is a man who is deeply admired and respected by his former students, colleagues and peers," said Dr. Ralph Richardson, dean of the College of Veterinary Medicine. "His contributions to veterinary education and to K-State's veterinary program are simply too numerous and profound to summarize in just a few words. He is someone we have honored and continue to honor as he remains an active member and supporter of the K-State veterinary family."
Important mentors in his professional career include his parents, who would not let him accept the loss of fingers on his right hand at age 4 as a handicap. His older brother Vernon encouraged his participation in 4-H and FFA and provided a role model for higher education in agriculture at South Dakota State College. Also instrumental in his academic pursuits were Ms. Ballweg, grade school teacher, Mr. Simmons, high school typing teacher, Ms. Hartwig, zoology instructor and K-State graduate at South Dakota State College, Dr. C.C. Lipp, head of the Veterinary Science Department at South Dakota State College, and Dr. Fayne Oberst, large animal clinician and major professor at K-State. His wife of 65 years, Pat, was an active business partner in his veterinary practice and was very encouraging in all of his academic pursuits.
Dr. Noordsy's professional accomplishments include serving as secretary-treasurer of the South Dakota Veterinary Medical Association, as district director, vice-president and president of the American Association of Bovine Practitioners, and as a member and chair of the American Veterinary Medical Association's (AVMA) Council on Veterinary Service. He served as chairman of the AVMA Council on Veterinary Service including its chairman from 1980-86, on the AVMA Committee on Animal Technology and Training, and as the AVMA Scientific Program-Bovine Section Coordinator from 1988-93. From 1946-48, he was a member of the Research Institute at Iowa State University's veterinary college, and was a member of the South Dakota Livestock Committee in 1946. He served as the secretary-treasurer of the K-State Veterinary Medical Alumni Association for many years. Dr. Noordsy was associated with many honorary organizations such as Gamma Sigma Delta, Sigma Xi and Phi Zeta.
Dr. Noordsy has received recognition and awards in his long career in the veterinary profession including: the AVMA President's Award in 2009, Norden Distinguished Teacher Award was given in 1969 and again in 1973, K-State Distinguished Teacher Award from Standard Oil Company in 1973, E.R. Frank Award in 1995, Who's Who in Veterinary Science and Medicine, Who's Who in Education-Midwest, and Honorary Distinguished Membership in AABP in 1992. The AVMA Certificates of Appreciation were given to him each year from 1979 through 1993. Dr. Noordsy was also the recipient of the South Dakota Veterinary Medical Association's Certificate of Appreciation in 1960. He was a major speaker at four International Bovine Symposiums – Philadelphia; Milan, Italy; Paris; and Munich, Germany. He received the Amstutz-Williams Award from the AABP in 2001.
Dr. Noordsy has published an internationally recognized textbook entitled "Food Animal Surgery." The most recent edition (4th) was in collaboration with a former graduate student, Dr. N. Kent Ames, DVM, MS, professor in large animal clinical sciences, Michigan State University, Ann Arbor. Dr. Noordsy has also been a contributing author on four veterinary textbooks and has published approximately 75 scientific articles in veterinary medical journals. He has produced numerous continuing education videos.
Dr. Noordsy and his wife are lifetime members of the K-State Veterinary Foundation and K-State Alumni Association, as well as members of Presidents Club and College of Veterinary Medicine's Ambassadors Gallery. He was a member of the Lion's International in Marion and in Manhattan and served as president of the Marion organization in 1955. Dr. Noordsy was ruling elder of his church in Marion and in Manhattan. He has been a member of the Rotary International since 1984, Manhattan Chamber of Commerce since 1960 and the KVMA Outreach from 1988 to present. He was president of Gamma Sigma Delta. He served as a member and president of the board of education in Marion from 1954-59. He was a representative of the Boy Scouts of America and served on the Executive Board both in Marion and Manhattan.
The Noordsys have three children: Thomas, Jill and Terry, all of whom are involved in medical pursuits; eight grandchildren; and 10 great grandchildren. The Noordsys have established an endowed scholarship to promote proficiency in food animal medicine.