Keynote Speaker
Each year the Phi Zeta Research Day keynote address is sponsored by a generous endowment by Kenneth D. Olson and his family.
Kenneth Dell Olson was born August 18, 1919, in Frankfort, Kansas, the son of Dell and Gunhild Olson. He graduated from Frankfort High School, then attended Brown Mackie Business College in Salina and Kansas State University. He went on to become a respected and very successful Kansas businessman, and was a loyal K-State Alumnus and member of the President's Club. In 1941, Kenneth married Marjorie Spiller, who was also a K-State graduate. Their son, Dr. Gary Olson graduated from Kansas State University's College of Veterinary Medicine in 1972. He spent two years in Elkhart, Indiana, before moving back to Lawrence in 1974 to establish the Clinton Parkway Animal Hospital. Dr. Olson has been a board member of the Kansas City Veterinary Medical Association, the Kansas Veterinary Medical Association, President of the Douglas County Veterinary Association, and area director for the American Animal Hospital Association.
This year's invited keynote speaker is Dr. Molly McCue
Dr. McCue is a professor at the Department of Veterinary Population Medicine and the Associated Dean of Research in the College of Veterinary Medicine at the University of Minnesota in St. Paul, Minnesota. Our speaker is a CVM-KSU alumnus. She completed her Bachelor of Science and DVM at KSU, followed by a Large Animal Internship at the University of Georgia, a Master of Science at KSU, and PhD and post-doctoral fellowship at the University of Minnesota.
Notably, Dr. McCue runs one of the largest equine genetics laboratories in the world. In addition, to better understanding disease in the horse, Dr. McCue's research focuses on how the horse can be leveraged as a biomedical model. To do that, her lab builds tools to conduct network biology to understand cell's function organization, and they are also now applying metabolomics to quantify metabolic differences in the horse, among other genomic and computational biology tools.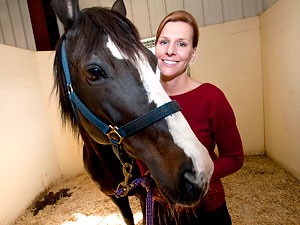 2020 Keynote Address: Dr. Adam Boyko, Cornell University College of Veterinary Medicine
Previous keynote speakers have included;
Dr. Luis J. Montaner, Wistar Institute, Philadelphia
Dr. Lisa Freeman, Executive Vice President and Provost Northern Illinois University.
Dr. Dori Borgesson, Professor and Department Chair of Pathology at University of California, Davis