Natasha N Gaudreault
Research Assistant Professor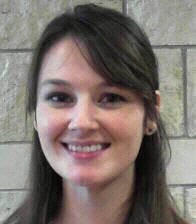 B.S. Biology, 2006, Kansas State University
Ph.D. Microbiology and Molecular Biology, 2011, University of Nebraska-Lincoln
Research
My primary responsibility is to conduct and manage research at the BSL3 laboratory for projects involving African swine fever virus. My research focus is on transboundary and zoonotic viral diseases towards the development of effective control strategies for economically important pathogens including African swine fever and Rift Valley fever viruses. My research involvement includes studies related to vaccines, diagnostics, pathogenesis and molecular virology. My main interests are molecular characterization of viral pathogens and virus-host interactions including host response and viral pathogenesis. Other interests include arbovirology, especially vector involvement in transmission and host pathogenesis.
Selected Publications
Jaing C, Rowland RRR, Allen J, Certoma A, Thissen JB, Bingham J, Rowe B, White JR, Wynne JW, Johnson D, Gaudreault NN, Williams DT. Gene expression analysis of whole blood RNA from pigs infected with low and high pathogenic African swine fever viruses. Scientific Reports, 6:10115.
Popescu LN, Gaudreault NN, Whitworth KM, Murgia MM, Nietfeld JC, Mileham A, Samuel M, Wells KD, Prather RS, Rowland RR, 2017. Genetically Edited Pigs Lacking CD163 Show No Resistance Following Infection with the African Swine Fever Virus Isolate, Georgia 2007/1. Virol, 501:102-106.
Bonto F, Gaudreault NN, Liu Q, Davis AS, Shivanna V, Sunwoo SY, Lang Y, Morozov I, Ruder M, Drolet B, McVey DS, Ma W, Wilson W, Richt JA, 2016. Development of a sheep challenge model for Rift Valley fever. Virology, 489:128-140.
Wilson WC, Gaudreault NN, Jasperson D, Johnson D, Ostlund E, Chase CL, Ruder MG, Stallknecht DE, 2016. Molecular evolution of American field strains of bluetongue and epizootic hemorrhagic disease viruses. Vet Ital, 51:269-273.
Wilson WC, Gaudreault NN, Hossain MM, McVey DS, 2015. Lesser-known bunyavirus infections. Rev Sci Tech Off Int Epiz, 34: 419-429.
Gaudreault NN, Indran SV, Bryant PK, Richt JA, Wilson WC, 2015. Comparison of Rift Valley fever virus replication in North American livestock and wildlife cell lines. Front Microbiol, 6: 664.
Gaudreault NN, Jasperson DC, Dubovi EJ, Johnson DJ, Ostlund EN, Wilson WC, 2015. Whole genome sequence analysis of circulating Bluetongue virus serotype 11 strains from the United States including two domestic canine isolates. J Vet Diagn Invest, 27:442-448.
Gaudreault NN, Mayo CE, Jasperson DC, Crossley BM, Breitmeyer RE, Johnson DJ, Ostlund EN, MacLachlan NJ, Wilson WC, 2014. Whole genome sequencing and phylogenetic analysis of Bluetongue virus serotype 2 strains isolated in the Americas including a novel strain from the western United States. J Vet Diagn Invest, 26:553-557.
Wilson WC, Bawa B, Drolet BS, Lehiy C, Faburay B, Jasperson DC, Reister L, Gaudreault NN, Carlson J, Ma W, Morozov I, McVey DS, Richt JA, 2014. Evaluation of lamb and calf responses to Rift Valley fever MP-12 vaccination. Vet Microbiol, 172:44-50.