Women in Veterinary Medicine
Challenges, criticisms name of the game for early female pioneers in veterinary medicine
From the Sunflower Roads - Summer 2004, Volume 4, Issue 3
It began as a man's profession. But now, so it seems, women are taking over. Kansas State University's first veterinary medicine graduation was in 1907 with seven graduates -- all male. In the recently graduated class of 2004, the number of graduates had grown to 107 and women outnumbered men almost two to one. "For many years admissions committees discriminated against female applicants," said Ronnie Elmore, associate dean of the College of Veterinary Medicine. "Fortunately, this is no longer true. Part of the reason for increased numbers of women in the program relates to their knowing that they are welcome. Along with this we now have an adequate number of female role models in the profession for young women to emulate."
Dr. Helen Richt, DVM 1932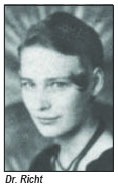 K-State's legacy of women veterinarians began in 1932 with Helen Richt, a native of Omaha and K-State's first woman graduate. Another graduated in 1934, but there would be no more women graduates from the program until 1944. By 1936, there were 30 female veterinarians in the United States, two of whom had graduated from the college at K-State. Female graduation in veterinary medicine remained rather sporadic until the mid-1960s. By the late 1970s females made up 14 percent of the college's graduating veterinarians.
"The early graduates were all very courageous and gutsy women," said Lesley Gentry, author of "The Lady is a Veterinarian," an account of the pioneer women who graduated from the school of veterinary medicine at K-State. "From a very early age they made up their minds they were going to take care of animals. They were very determined." Gentry attributes the increased enrollment and interest to a variety of factors including the Equal Pay Act of 1963 and the Civil Rights Act of 1964 which guaranteed equal opportunity in training and in salary. The Women's Educational Act of 1974, which helped prevent sex discrimination in the school system, also played a role in the increase in women veterinarians, Gentry said. But Gentry also attributes the 1970s enrollment increase to the success of the books written by James Herriot, a British veterinarian and author. Herriot wrote and published tales based on his life as a veterinarian. They had international readership and were adapted for film and television in Britain and the United States.
"The way he depicted the life of a veterinarian really attracted women and encouraged them to go seek out what it takes to be vet," Gentry said. Since its first commencement in 1907, K-State has graduated more than 1,100 women into the profession of veterinary medicine. K-State's female graduates have gone into all areas of the profession, including private practice as well as governmental and food industry positions. Gentry, who has worked for 30 years as a veterinary nurse both in her native country of England and at her husband's practice in Beloit, Kansas. said she believes veterinary medicine offers a lifestyle women will continue to pursue. "I really think it's an area where women are going to be accepted and be able to work at their own pace," she said. "They're going to be able to both work and raise a family -- and do an excellent job."
Dr. Louise Sklar, DVM 1934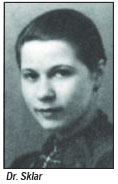 In 1932, the first woman graduated from K-State in veterinary medicine. By 1950, the total had only risen to nine. Among those were Louise Sklar and Ruth Kaslow, two women who faced societal, academic and individual challenges to achieve their goal. Sklar had always excelled academically. She skipped two grades in elementary school and graduated in 1930 at the age of 15 from Manhattan High School, said Lesley Gentry. Sklar was admitted into K-State's veterinary medicine program that same year, by-passing the preveterinary curriculum. She was the only female in a class of approximately 40. But animal care was not her initial goal, Gentry said. "Louise had mentioned to a reporter one time that she had entered the veterinary curriculum as a sort of pre-medicine work, but she became so interested that she wanted to finish," Gentry said. "She would graduate to become a distinguished scientist later in her veterinary career." According to Gentry, Sklar is the youngest woman to have entered veterinary school and the youngest woman in her field, having graduated from the curriculum in 1934 at age 19.
Dr. Ruth Kaslow, DVM February 1947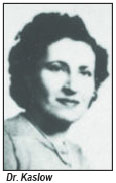 Ruth Kaslow came 13 years after Dr. Sklar. Her graduating class was made up of a diverse group of students, including Hispanics, Jews, African-Americans and women. Kaslow, who was a Jewish woman, faced a number of challenges as a minority in her class. "It was no doubt a difficult time to be in veterinary school," Gentry said. Perhaps Kaslow's greatest challenge was that she had several physical disabilities, including being deaf. She lip-read her way through veterinary school and graduated with honors in 1947, Gentry said. Later in life, she became a research assistant and advocate for the betterment of the lives of research animals.
(Read more about the history of women veterinarians in "A Century of Excellence" history book. )