Message from the Dean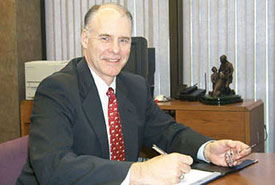 It has been nearly 100 years since the College of Veterinary Medicine was established at Kansas State Agricultural College in 1905. Since then more than 5,000 men and women have been granted the Doctor of Veterinary Medicine degree. Lectures in veterinary medicine were given as early as 1871 and the veterinary science program began in 1872, but the degree-granting curriculum was not established until 1905 and the first small class graduated in 1907.

The KSU College of Veterinary Medicine is on the move. As we prepare to celebrate our 100th anniversary in 2005, there is no doubt, as we look to the future, that we must reflect and appreciate our history and recognize the building blocks of our success.

I'm proud to say that the future of our college looks bright and full of opportunity. We aspire, through excellence, to be the very best veterinary college. We will continue to strive to build and strengthen our teams of students, faculty, alumni, clients and friends. I consider it an honor to be a part of this team.

As our college continues to grow in the areas of education, research and service, I am encouraged by the dramatic progress we are making. I invite you to take advantage of the various opportunities, provided through continuing education, alumni receptions and several college-wide events.
Please join us in 2005 for our centennial celebration — 100 years of education, service and research.
In preparation for the centennial of our College, a 240-page history book, "A Century of Excellence" is being prepared that will include a 2-page spread for each class and a timeline covering some of the important events that happened throughout that year. Sections will also be devoted to the events that occurred before 1905, the early faculty, the buildings and facilities that were used by faculty and students, the Deans of the College, the role KSU graduates played in the development of a School of Veterinary Medicine at Tuskegee Institute, the partnership with Nigeria to develop a College of Veterinary Medicine, the first women to graduate from KSU, AVMA presidents from KSU, continuing education, the contract with the State of Nebraska, and our Alumni Fellows.
"A Century of Excellence" is being prepared by Drs. Ronnie Elmore and Howard Erickson. It is their desire to accurately highlight our first one hundred years in a very readable, yet scholarly format. If you have any information about the College or your classmates that you think might be included, please send it to them. The book is scheduled for completion in the spring of 2004. It will be available in two forms, a hard copy with a slip cover for about $40.00 and a leather-bound limited-edition for $500.
Proceeds from the book sales will also benefit the Kansas State University College of Veterinary Medicine centennial program. The cover of the leather-bound copy is burgundy with the school logo embossed and stamped with gold foil. Each copy will be personalized with the donor's name and year of graduation stamped in gold foil on the front cover. The donor's name will also be included on a page in the back of the book as a partner who supports the publication. Please support our great college and own a piece of history by ordering your copy of "A Century of Excellence" today.
Sincerely,
Ralph C. Richardson, DVM
Dean