Services Offered
The Marketing Team promotes aspects of the college based on the college's strategic priorities. All requests from the college community are honored on a first-come, first-served basis. Below are the types of services offered by the team, plus a handy "road map" for a quick look at the process for requesting a project and where to go to get started. For more detailed information, click on Marketing Handbook or contact us at marketing@vet.k-state.edu.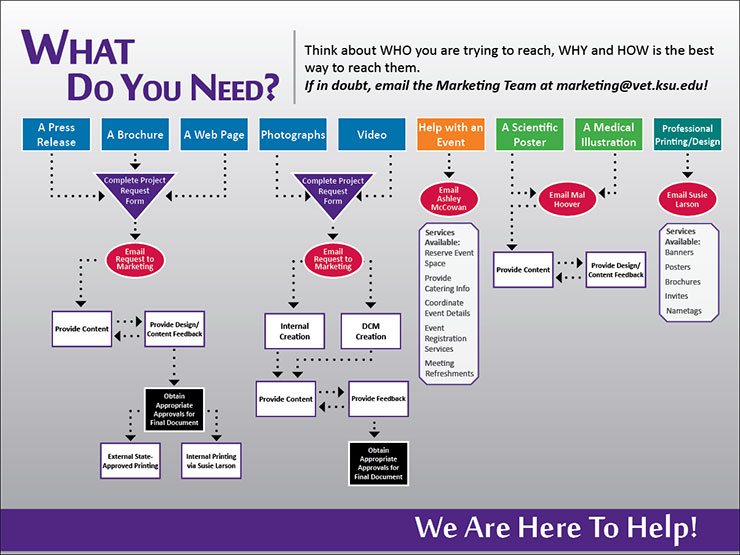 Design Services
The Marketing Team provides graphic design solutions for all print and digital projects, coordinates design and print production of official KSUCVM documents including, but not limited to: student recruitment and admissions material and departmental print needs such as program of study brochures, flyers, posters, catalogs, schedules, etc.
Media Relations
The Marketing Team serves as a portal through which accurate and consistent information passes. The team writes media releases and distributes them to a master list of media sources. The Marketing Team arranges media opportunities on current events and is available for media training within KSUCVM.
Photography
The Marketing Team provides images to market the institution to the college's faculty, staff and the public through a variety of media including Web, newspaper and print publications. The Marketing Team is also available to take photos or will serve as a liaison to Division of Communications and Marketing to have professional photos taken.
Publications
The Marketing Team writes, edits and supervises production of all college publications in order to maintain and assure professional quality and timeliness.
Videography
The Marketing Team coordinates moving images to support college-wide special events, courses, lectures, seminars and other academic programming needs.
Web Content
The Marketing Team writes and/or edits content for the main KSUCVM homepage, including photo(s) and caption(s), news items and events calendar. Department and unit staff edit and oversee the production of respective online content including web pages, online publications and online advertising campaigns. The Marketing Team advises college faculty and staff on how to communicate online in a user-friendly manner and ensures that web pages conform to the standard college-approved look and feel. The Marketing Team also manages KSUCVM social media sites and requests.
Marketing Consultation
The Marketing Team is available for strategic planning of communications, public relations and marketing activities.
Events
The Marketing Team can direct you to the Alumni & Events department as well as provide additional communications and marketing services to aid in the success of your event.