Diagnostic Medicine/Pathobiology
The Department of Diagnostic Medicine/Pathobiology is a multidisciplinary department that helps train tomorrow's veterinarians and scientists, provides diagnostic service to the state and the nation, and conducts research on disease in animals and humans. We are proud of our commitments to diversity in our teaching, research and service missions.
Highlights in Research and Teaching
Meet Dr. Yunjeong Kim, associate professor in the Department of Diagnostic Medicine/Pathobiology, who is our featured researcher of the month. She talks about her goal of developing antiviral drugs to treat feline coronavirus infections and feline infectious peritonitis.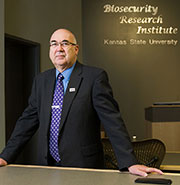 With the Zika virus outbreak growing, a Kansas State University infectious disease expert says that research is crucial to combating this outbreak and preventing the spread of other mosquito-borne viruses. "One of the strengths that we have here at the Biosecurity Research Institute is the development of diagnostics and vaccine work," said Stephen Higgs, director of the Biosecurity Research Institute."That is exactly what is needed to enable timely responses to new diseases as they come along."
Diagnostic results are now within touch at the Kansas State Veterinary Diagnostic Laboratory — thanks to the launch of a brand-new app for mobile devices. The lab anticipates the new app will improve customer service and efficiency at delivering results to veterinarians across the country.
The usual suspects are not to blame for recent cases of respiratory disease in domestic pigs. Researchers in the Kansas State Veterinary Diagnostic Laboratory have successfully published the first formal identification and characterization of porcine parainfluenza virus 1 from U.S. pigs, which had previously only been detected in Asia. Dr. Benjamin Hause, an assistant professor in the College of Veterinary Medicine, and Rachel Palinski, doctoral student in diagnostic medicine and pathobiology, worked with a team of scientists that published its findings in the Nov. 17, 2015, issue of the Journal of General Virology in the article "Widespread detection and characterization of porcine parainfluenza virus 1 in pigs in the United States."