A healthier world starts here
At the College of Veterinary Medicine, we embrace the One Health concept. We recognize how animal and human health are deeply intertwined. This understanding guides everything we do, from innovation and excellence in teaching to research and service to promote animal and human health for the public good. As a college, we are committed to an environment that is fulfilling and rewarding, and is recognized for good communication, productive collaboration, mutual respect, diversity, integrity and honesty.
News
Dr. Fernando Pierucci-Alves seeks to understand factors related to infertility
Meet Dr. Fernando Pierucci-Alves, assistant professor in the Department of Anatomy and Physiology, who is our featured researcher of the month. He seeks to understand how disruptions in transforming growth factor beta (TGFβ)-signaling leads to infertility associated with antisperm antibodies and leukocytospermia.
Veterinary student Caroline Meyer inspires state legislators to wear red for heart disease awareness campaign
Sen. Vicki Schmidt teared up as she relayed the story Thursday of 29-year-old Topeka resident Caroline Meyer. Meyer, a heart disease survivor — a young and healthy woman — isn't the typical image that comes to mind when someone thinks of heart disease. Meyer was finishing veterinary school at Kansas State University when she was diagnosed with acute congestive heart failure and was transported to St. Luke's Hospital in Kansas City, Mo. Read the story to learn about Caroline's struggles and eventual triumph.
February issue of Lifelines newsletter is now online

See stories about veterinary students volunteering in Nicaragua; a K-State research article gets chosen as debut cover art for a leading academic journal; former Dean Ralph Richardson is selected for a distinguished lecture award, and more. Be sure to watch our bonus video about the Veterinary Health Center's veterinary technician internship program, plus see a special video from K-State Sports about CVM alum Dr. Max Moss getting inducted into the K-State Athletics Hall of Fame.
Computer helps Kansas State veterinary researchers tackle multiple flu strains at once
H1N1. H5N1. H7N9. The influenza virus comes in many varieties and goes by many names. Its diversity is also its greatest asset: the ability to change two proteins on its surface—H and N in shorthand—lets it evade the immune system and complicates the work of drug- and vaccinemakers. Now, researchers report that they've used computers to help them target a region of the virus that rarely changes, and they've designed a small protein that renders the virus unable to infect cells and cause disease, at least in mice.
Diagnostic research, vaccine work are key to controlling Zika virus outbreak, Biosecurity Research Institute director says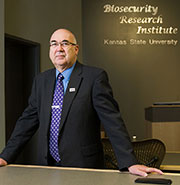 With the Zika virus outbreak growing, a Kansas State University infectious disease expert says that research is crucial to combating this outbreak and preventing the spread of other mosquito-borne viruses. "One of the strengths that we have here at the Biosecurity Research Institute is the development of diagnostics and vaccine work," said Stephen Higgs, director of the Biosecurity Research Institute."That is exactly what is needed to enable timely responses to new diseases as they come along."
Kansas State Veterinary Diagnostic Laboratory launches new mobile device app so clients can track progress on diagnostic samples for animal patients
Diagnostic results are now within touch at the Kansas State Veterinary Diagnostic Laboratory — thanks to the launch of a brand-new app for mobile devices. The lab anticipates the new app will improve customer service and efficiency at delivering results to veterinarians across the country.
Veterinary Technician Intern Program | Veterinary Health Center
Do you know a graduating or current veterinary technician looking for a fantastic new opportunity? The Veterinary Technician Intern Program at the VHC offers exposure to a variety of specialties and access to board-certified veterinarians and may be the perfect option! More details and application can be found here: http://www.vet.k-tate.edu/vhc/about/employment/TechnicianInternship.html Or contact Lisa Bryant at lbryant@vet.ksu.edu.