A healthier world starts here
At the College of Veterinary Medicine, we embrace the One Health concept. We recognize how animal and human health are deeply intertwined. This understanding guides everything we do, from innovation and excellence in teaching to research and service to promote animal and human health for the public good. As a college, we are committed to an environment that is fulfilling and rewarding, and is recognized for good communication, productive collaboration, mutual respect, diversity, integrity and honesty.
News
Pet Friendly Specialty License Plates
Pet owners in Kansas now have a new vehicle for showing their love of animals by placing a special Kansas license plate ON their vehicles. It's called the Pet Friendly program. Proceeds from the sale of these license plates will support veterinary student externships and spay/neuter programs at animal shelters across the state, while providing an option for Kansas residents who are buying or renewing their license plates.
Winter 2015 issue of AnimaLIFE is online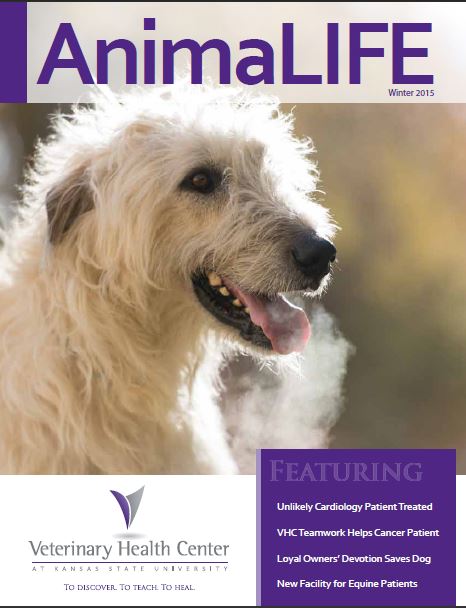 The official magazine of the Veterinary Health Center celebrates the human-animal bond. Learn how an unlikely cardiology patient was treated; See how VHC teamwork helped save a cancer patient; Discover how a loyal owner's devotion saved her dog; and more.
Nanotechnology Innovation Center of Kansas State (NICKS) offers Electron Microscopy facility
The Nanotechnology Innovation Center of Kansas State (NICKS) hosts an electron microscopy (EM) facility located within the CVM. This facility can be used to help improve the scientific output of Kansas State University researchers, while providing faculty, students and staff with guidance for EM research. Click the link above for a detailed description of all features and services of the Electron Microscopy Facility.
Veterinary researcher validates human tracheal/bronchial-cell model for influenza A infections of trachea
A recently hired veterinary pathologist is bringing multiple skills to her new position in the College of Veterinary Medicine at Kansas State University, including experience with a human primary cell line used for modeling human influenza infections.
Dr. Matt Miesner helps show how to treat leg fractures in young calves
Occasionally, a newborn or young calf suffers a fractured limb. Such injuries can happen during a difficult birth or by being stepped on by a cow. Regardless of the cause, these injuries require a cast or splint for proper healing. Dr. Matt Miesner, Kansas State University Veterinary Health Center, says incorrect methods when applying chains or straps to the calf in assisting a difficult birth causes some leg fractures.