Anatomy and Physiology
We are a multi-disciplinary department with responsibilities in instruction, research and continuing education in the disciplines of gross and microscopic anatomy, cell and systemic physiology, pharmacology, and neuroscience.
Highlights in research and teaching
The Department of Anatomy and Physiology in the College of Veterinary Medicine at Kansas State University is seeking applications for a 12-month, tenure-track or clinical-track Assistant or Associate Professor Faculty position with a primary emphasis in the teaching of Gross Anatomy.
Dr. Fernando Pierucci-Alves seeks to understand how disruptions in transforming growth factor beta (TGFβ)-signaling leads to infertility associated with antisperm antibodies and leukocytospermia.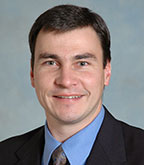 A former faculty member is returning to Kansas State University to lead the anatomy and physiology department in the College of Veterinary Medicine. Dr. Hans Coetzee will become head of the department on Oct. 1. Coetzee was a College of Veterinary Medicine faculty member from October 2005 to July 2011, leaving to join Iowa State University's College of Veterinary Medicine as a professor and section leader for its pharmacology analytical support team.
Recently, the Auburn University football team revealed its pregame ritual of taking beetroot concentrate, or beet juice, before each game. The juice may have contributed to the team's recent winning season — and one exercise physiologist who has been studying the supplement for several years says that may be the case. "Our research, published in the journal Physiology in 2013, has shown that the nitrate found in beetroot concentrate increases blood flow to skeletal muscles during exercise," said Dr. David Poole, professor of exercise kinesiology and anatomy and physiology at Kansas State University.
A chloride channel may sound like the latest addition to the cable television lineup, but two Kansas State University researchers are helping to show — including in 3-D — why knowing more about this family of transport proteins may unlock mysteries behind some genetic diseases. The Sept. 15 issue of The Journal of Physiology highlights Dr. Peying Fong and Dr. Jeffrey Comer from the College of Veterinary Medicine's anatomy and physiology department for their independent contributions on the featured topic of CLC — or chloride channel — transport proteins.