Anatomy and Physiology
We are a multi-disciplinary department with responsibilities in instruction, research and continuing education in the disciplines of gross and microscopic anatomy, cell and systemic physiology, pharmacology, and neuroscience.
Highlights in research and teaching
Dr. Fernando Pierucci-Alves seeks to understand how disruptions in transforming growth factor beta (TGFβ)-signaling leads to infertility associated with antisperm antibodies and leukocytospermia.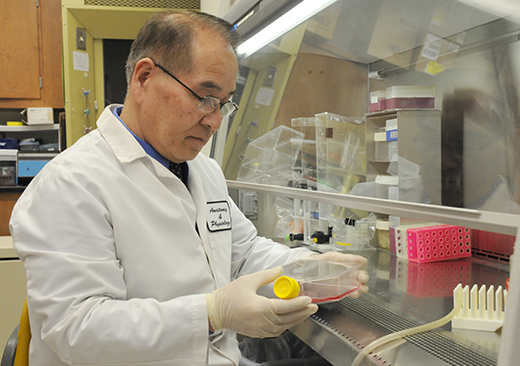 Lung cancer patients may one day be able to breathe a sigh of relief because of a new potential treatment for the disease. Kansas State University's Dr. Masaaki Tamura is collaborating on a National Institutes of Health-funded research project for a therapeutic compound that would be administered directly to the lungs in aerosol form.
Dr. David Poole works with collaborators from two universities in the United Kingdom to support newly released new findings about how to "cross the red line." These findings provide insight for better understanding a variety of human and animal diseases.
Important numbers related to food safety are hosted at Kansas State University in the Food Animal Residue Avoidance Databank (FARAD). In September, FARAD received $360,000 as part of an annual, renewable grant from the USDA's National Institute of Food and Agriculture.