Internship in China | 在中国实习

To equip veterinary students with global perspective, the U.S.-China Center for Animal Health has arranged a summer internship in China for Marie Keith, a junior DVM & Master of Public Health student at K-State. The following is Marie's write-up about her experience in China.
Exploring rabies, public health and life - a vet student's adventure in Beijing
Marie Keith - September 18, 2016
This summer, I had the extraordinary opportunity to travel to China and spend seven weeks interning at the Chinese Center for Disease Control and Prevention in Changping, Beijing. As a DVM/MPH student at Kansas State, I am deeply interested in veterinary public health and its relation to global health. As a result, I had wanted to complete my MPH field experience internationally if possible. I had learned of the US China Center for Animal Health at a club meeting during my first year of vet school. As I began trying to plan my MPH field experience, I decided to reach out to Dr. Shi and ask him if US veterinary students might have the opportunity to travel to China and study there. Although the Center did not formally have any such program in place, Dr. Shi generously told me that he'd see what he could make happen. After I described my research interests and field experience requirements, he reached out to one of his colleagues at the China CDC's Division of Infectious Diseases about the possibility of me interning there. Dr. George Gao kindly took an interest and decided to help me out, and before I knew it I was emailing back and forth with my future site mentor arranging details and learning about the project I would be involved in during the summer. What amazed me the most about this whole experience of arranging a field experience site was how everyone I interacted with was so willing to make this a reality.
I had to fund my own travel and housing expenses, but fortunately, the College of Veterinary Medicine had recently instituted travel awards to make international experiences more feasible for veterinary students. The MPH Department also has field experience travel awards to help with the costs. I applied for both of these, and was able to cover my airfare, lodging and living expenses.
I arrived in Beijing one rainy day in June, and early the next morning showed up at the CDC to start my internship. I was placed in the Office of Zoonotic and Vector Borne Diseases within the Division of Infectious Diseases; it was a small office with four staff and two graduate students. I worked under the direct supervision of Dr. Li Yu, an epidemiologist who focuses primarily on viral diseases. His office had recently received funding from the US CDC to conduct a project on rabies; this was the project I spent the majority of my summer working on. China has a very high burden of rabies, second only to India globally, with over 2000 deaths on average reported annually for the last decade.1 Although the numbers have been declining, there is still a clearly demonstrated need to investigate rabies epidemiology and focus on post-exposure prophylaxis (PEP) which is either not administered or administered inadequately in a significant number of cases.
In order to identify possible areas of improvement in rabies PEP, we conducted two surveys at clinics located in a rural county of Hunan province. The first survey investigated the resources - including staff, facilities, equipment, biologics and information management - of these clinics, in particular regarding their capacities to successfully administer rabies PEP. The second survey, was observational, with employees of the provincial CDC observing patients presenting for bite or scratch wounds in these clinics. Patients and the attending health care providers were followed through the entire course of the visit, with the observer responding to a series of questions regarding the history and physical exam, wound washing and any treatment administered. Unfortunately, our second survey was delayed due to severe flooding in Hunan Province this summer. I was actually supposed to travel to Hunan Province during the survey administration, but due to the flooding and dangerous conditions of the roads, China CDC cancelled all unnecessary travel to the region.
In addition to having a career-influencing and formative research experience this summer and learning more than I ever knew there was to know about rabies PEP, I also had a unique privilege to attend a dinner for KSU CVM alumni in Beijing with Dr. Shi and Dr. Wang, Dean Beckham and Dean Blecha. The alumni are all important players in veterinary medicine, industry and public health in China. As I sat at the table listening to them reminisce on their days as students wandering the halls of Trotter, I felt an immense sense of K-State pride. This had all started with a seemingly impossible idea, but it had become a wonderful reality, thanks to generous grants, friendly and willing mentors and dedicated professors!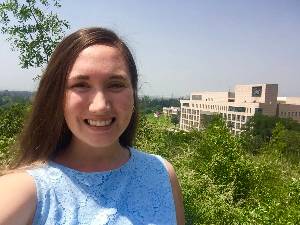 1 World Health Organization. http://www.wpro.who.int/china/mediacentre/factsheets/rabies/en/