Graduating Class of 2016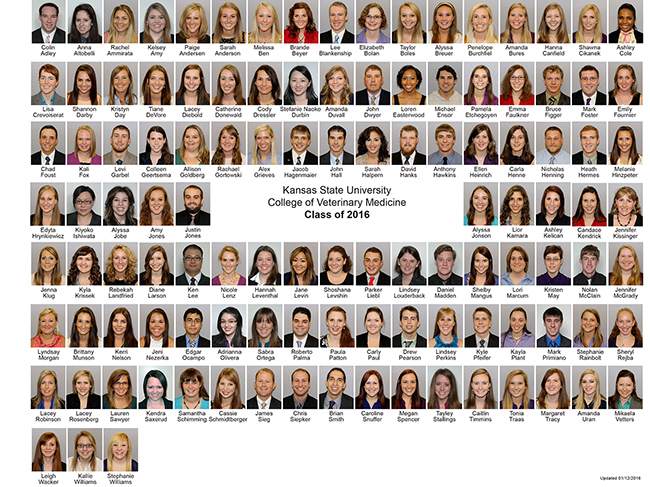 First Row: Colin Adley, Anna Altobelli, Rachel Ammirata, Kelsey Amy, Paige Andersen, Sarah Anderson, Melissa Ben, Brande Beyer, Lee Blanksenship, Elizabeth Bolan, Taylor Boles, Alyssa Breuer, Penelope Burchfiel, Amanda Bures, Hanna Canfield, Shawna Cikanek and Ashley Cole.
Second Row: Lisa Crevoiserat, Shannon Darby, Kristyn Day, Tiane DeVore, Lacey Diebold, Catherine Donewald, Cody Dressler, Stefanie Naoko Durbin, Amanda Duvall, John Dwyer, Loren Easterwood, Michael Ensor, Pamela Etchegoyen, Emma Faulkner, Bruce Figger, Mark Foster and Emily Fournier.

Third Row: Chad Foust, Kali Fox, Levi Garbel, Colleen Geertsema, Allison Goldberg, Rachael Gortowski, Alex Grieves, Jacob Hagenmaier, John Hall, Sarah Halpern, David Hanks, Anthony Hawkins, Ellen Heinrich, Carla Henne, Nicholas Henning, Heath Hermes and Melanie Hinzpeter.
Forth Row: Edyta Hrynkiewicz, Kiyoko Ishiwata, Alyssa Jobe, Amy Jones, Justin Jones, Alyssa Jonson, Lior Kamara, Ashley Kelican, Candace Kendrick and Jennifer Kissinger.
Fifth Row: Jenna Klug, Kyla Krissek, Rebekah Landfried, Diane Larson, Ken Lee, Nicole Lenz, Hannah Leventhal, Jane Levin, Shoshana Levshin, Parker Liebl, Lindsey Louderback, Daniel Madden, Shelby Mangus, Lori Marcum, Kristen May, Nolan McClain and Jennifer McGrady.
Sixth Row: Lyndsay Morgan, Brittany Muson, Kerri Nelson, Jeni Nezerka, Edgar Ocampo, Adrianna Olivera, Sabra Ortega, Roberto Palma, Paula Patton, Carly Paul, Drew Pearson, Lindsey Perkins, Kyle Pfeifer, Kayla Plant, Mark Primiano, Stephanie Rainbolt and Sheryl Rejba.
Seventh Row: Lacey Robinson, Lacey Rosenberg, Lauren Sawyer, Kendra Saxerud, Samantha Schimming, Cassie Schmidtberger, James Sieg, Chris Siepker, Brian Smith, Caroline Snuffer, Megan Spencer, Tayley Stallings, Caitlin Timmins, Tonia Traas, Margaret Tracy, Amanda Uran and Mikaela Vetters.
Eighth Row: Leigh Wacker, Kallie Williams and Stephanie Williams