Dr. Walter C. Cash
2016 Distinguished Service Award
DVM 1971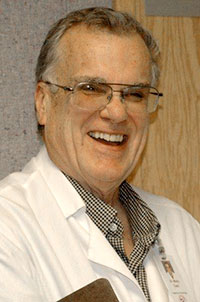 The late Dr. Walter "Wally" C. Cash, Manhattan, Kansas, has been selected as the posthumous recipient of the 2016 Distinguished Service Award by the Kansas State University College of Veterinary Medicine and its Veterinary Medical Alumni Association. This award is presented during the 78th annual Conference for Veterinarians on June 5.
Dr. Cash retired in 2013 after 39 years of teaching anatomy in the College of Veterinary Medicine. He was a legend in the classroom and lab and well-known for his sense of humor, distinctive laugh and love of veterinary puns. He passed away on June 29, 2015, and is survived by his wife of 47 years, Trisha, and daughter, Caitlin.
"Wally would have been humbled and honored to be recognized for what he considered his greatest joy – inspiring young people to develop a lifelong love of learning" Trisha Cash said. "What an amazingly bright, truly gifted and passionate teacher."
"Dr. Cash was a dedicated and admirable professor that is greatly missed by faculty, alumni and students alike," said Dr. Tammy Beckham, dean of the College of Veterinary Medicine. "We honor his lasting memory, passion for teaching and impact on the veterinary profession through this award."
Dr. Cash was born in Wichita, Kansas. He obtained his bachelor's degree in biological sciences in 1969, DVM in 1971, and Ph.D. in anatomy/physiology/pathology in 1982, all from Kansas State University. From 1971 until 1974, Dr. Cash was in private veterinary practice in Rockford, Ill. Dr. Cash returned to K-State in 1974, eventually becoming a full professor in the Department of Anatomy and Physiology. Dr. Cash was a member of more than 15 graduate student committees and authored or co-authored more than 40 peer-reviewed publications. Dr. Cash produced more than 20 videotapes used in his anatomy classes and served on many college and university committees.
Dr. Cash received the Carl J. Norden Distinguished Teaching Award in 1980 and in 2000, Merial Award for Teaching Excellence in the First Year in 2005 and 2009, Professional Performance Award in 2007, and the ER Frank Award in 2010. He was also the proud recipient of the Dr. Roy W. Upham Endowed Professorship in Veterinary Medicine in 2010.
Dr. Cash was a charter member of the Sigma Chapter of Phi Zeta and a member of Phi Kappa Phi and Gamma Sigma Delta. He was also an active member of the American Veterinary Medical Association, Kansas Veterinary Medical Association, American Association of Veterinary Anatomists, American Association of Anatomists, World Association of Anatomists, Society for Neuroscience, and the American Association for the Advancement for Science.