Dr. David M. Ylander - DVM 1983
Nebraska Veterinary Medical Association Conference 2010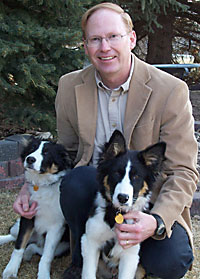 Dr. David M. Ylander, Alliance, Neb., was the 2010 recipient of the Alumni Recognition Award for the winter meeting of the Nebraska Veterinary Medical Association held Jan. 22, 2010 in Kearney, Neb. The award is in recognition for time and effort devoted to advancing veterinary medicine and for being an exemplary role model for future alumni in a professional and community setting.
Dr. Ylander, formerly of Lindsborg, Kan., earned a bachelor's degree in poultry science in 1978 and a Doctor of Veterinary Medicine degree in 1983, both at Kansas State University. He is a partner with three other veterinarians at the Alliance Animal Clinic. Prior to that, he was an associate veterinarian with Fillmore County Animal Clinic and owner and solo practitioner of Vetcare Animal Hospital, both in Geneva, Neb.
"It's a great honor to be chosen for an award by your alma mater," Dr. Ylander said. "The things I learned at K-State are an important part of my career. It prepared me to deal with a diverse range of animal health issues and encouraged me to serve my community and my profession beyond being a veterinary practitioner."
"Dr Ylander is an excellent role model for future veterinarians," said Ralph Richardson, dean of the K-State College of Veterinary Medicine. "He shows great passion in his practice and strong dedication as a leader in his community as well as in the profession. He has been willing to step up to the plate and serve veterinary medicine at all levels. We're extremely proud to give this award to Dr. Ylander."
Dr. Ylander estimates that more than 90 percent of his activities are involved with companion and exotic animals where he enjoys challenging medical cases as well as surgical ones. He earned a certification in veterinary acupuncture, which he uses to treat both large and small animal patients.
Dr. Ylander is serving as the Nebraska delegate to the American Veterinary Medical Association, is chairman of the Nebraska Board of Veterinary Medicine and Surgery, past chairman of the Nebraska Veterinary Medical Association (NVMA) continuing education committee and served as president of the NVMA in 2004. He is a president-elect of the American Association of Veterinary State Boards. Dr. Ylander was on the board of directors for the Nebraska Academy of Veterinary Medicine and also served as its president. He is a member of the Nebraska and Kansas Veterinary Medical Associations, American Association of Feline Practitioners and American Veterinary Dental Society.
Among community activities, Dr. Ylander has been president of the Rotary Club, vice chairman of the Box Butte County chapter of the American Red Cross, scoutmaster and committee chairman for Boy Scout Troops in Geneva and Alliance, president of St. John's Lutheran Church Council in Alliance, an EMT-A/D-I and crew captain with the Geneva Rescue Squad for 16 years and board member and treasurer of the Fillmore County Development Corporation.
Dr. Ylander and his wife, Kathleen, have four children: Kevin, Rebecca, Bryce and Brandon.