Dr. Steven Wright - DVM 1974
Nebraska Veterinary Medical Association Conference 2008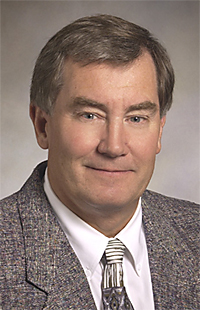 The late Dr. Steven Wright was honored by the Kansas State University Veterinary Medical Alumni Association at the winter meeting of the Nebraska Veterinary Medical Association. Dean Ralph Richardson led the tribute to Dr. Wright on Jan. 25, 2008.
Dr. Wright earned a bachelor's degree in 1972 and a DVM in 1974, both at Kansas State University. He worked in the Omaha, Neb. area his entire career, owning the Millard Veterinary Clinic since 1975.
"We are saddened by the loss of Dr. Wright," said Dr. Ralph Richardson, dean of the College of Veterinary Medicine. "He was a highly respected practitioner and leader in Nebraska veterinary medicine."
Dr. Wright partnered with two colleagues, one of whom is his only child, Dr. Matt Wright, who graduated from K-State in veterinary medicine in 2001, and currently practices in Omaha as the owner of the Millard West Veterinary Clinic. The clinic's focus is on companion animal medicine.
Dr. Steven Wright was a member of the AVMA, NVMA, AAVSB (American Association of Veterinary State Boards) and the Nebraska Academy of Veterinary Medicine. He served on the NVMA board of directors for 12 years, and was elected president in 1997. Dr. Wright was on the Nebraska Board of Examiners for Veterinary Medicine where he had served as chairman. He was honored with the NVMA President's Award for Outstanding Service in 1991. Dr. Wright served on Professional Veterinary Products Board for seven years, serving one year as president.
Active on numerous church boards and activities, Dr. Wright was recognized by the Millard Education Foundation as its Outstanding Alumnae in 1998. In his spare time, he enjoyed his grandchildren Lauren and Madison, farming, water sports and flying.
"He touched many lives and will be missed by all who knew him," Dr. Matt Wright said. "I truly think that if he left a legacy behind it was that he was a great caretaker of the patients he treated, the souls he touched, the grounds he groomed, and the lives he loved.
He was fair, compassionate and unselfish unto the end."
Dr. Wright passed away Sept. 4, 2007.