Dr. Terry Wollen
American Veterinary Medical Association 2009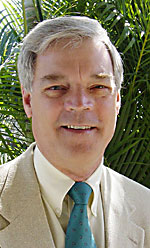 Dr. Terry Wollen, Little Rock, Ark., was selected by the Kansas State University College of Veterinary Medicine and its Veterinary Medical Alumni Association to receive a 2009 Alumni Recognition Award. The award is in recognition of his career in veterinary medicine and for having served as an exemplary role model for future alumni in a professional and community setting.
Dr. Wollen was chosen because of his work with Heifer International and his creation of an animal well-being program that has been implemented in more than 50 countries. Heifer International is a non-government organization that provides livestock and environmentally sound agricultural training to improve the lives of limited-resource families.
"Helping people help themselves has been the joy of my life," Dr. Wollen said. "My past experience working in livestock development has provided a useful and effective opportunity to do that. As an alumnus, I am glad to have been well-prepared through the faculty and instruction at K-State. And, I am proud to see K-State's ongoing outreach in clinical medicine and livestock health and husbandry, both nationally and internationally."
The alumni award will be presented July 13 at the annual convention of the American Veterinary Medical Association in Seattle. Dean Ralph Richardson will present the award on behalf of the K-State Veterinary Medical Alumni Association.
"Dr. Terry Wollen has had a very notable career — one that demonstrates the personally enriching opportunities that are possible through the practice of veterinary medicine," Dean Richardson said. "He has literally helped improve lives for animals — and humans — around the world. Through this award, we recognize Dr. Wollen as both an alumnus and tremendously caring person."
Dr. Wollen graduated from K-State with a bachelor's degree in animal science in 1970 and a DVM in 1972. His early career started in the U.S. Army Veterinary Corps. Following this service, he joined a large animal veterinary practice in Idaho, working with beef cattle, dairy cattle and equine medicine. He then spent 20 years with Bayer Animal Health in Technical Services and Research and Development, finally serving as a project manager for production medicine projects. For three of those years, he was a delegate to Bayer AG, the corporate headquarters in Monheim, Germany, to help develop antimicrobial and livestock insecticides.
Because of a strong desire to pursue a career in international livestock development, Dr. Wollen joined the United Methodist Committee on Relief (UMCOR) NGO in Armenia. During four years as Head of Mission at this office, the program grew to a multifaceted community development program with a large micro-credit program and a strong medical program with a multicultural staff in a cross-cultural environment. Dr. Wollen was instrumental for starting the new program office for Heifer International in the Caucasus region.
This led to an opportunity to join Heifer International in their Asia/South Pacific office as Coordinator of Animal Health. Over the next three years, this grew into his current position, and he moved to the headquarters in Arkansas.
Dr. Wollen is a board member of American Livestock Breeds Conservancy and member of the American Association of Bovine Practitioners, American Veterinary Medical Association, Arkansas Veterinary Medical Association, Kansas Veterinary Medical Association and Society of Tropical Veterinary Medicine.
Dr. Wollen is married to Judy (Lewis) Wollen, a 1971 K-State graduate in Family and Child Development in the College of Human Ecology. They have two children: Andy and Kristina, and two grandchildren.