Col. Cliff L. Walker
American Veterinary Medical Association 2008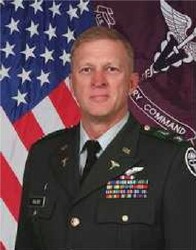 The late Col. Cliff L. Walker, DVM, Boerne, Texas, has been selected by the Kansas State University College of Veterinary Medicine and its Veterinary Medical Alumni Association to receive a posthumous 2008 Alumni Recognition Award. The award is in recognition of his career in veterinary medicine and for having served as an exemplary role model for future alumni in a professional and community setting.
Col. Walker was the commander of the U.S. Army Veterinary Command at Fort Sam Houston, Texas. The Veterinary Command provides food safety and defense, veterinary public health, and veterinary medical care supporting all Department of Defense organizations and other federal agencies while ensuring our soldiers are fully trained and mission-ready to deploy in support of worldwide operations. Col. Walker died May 28, 2007.
"I remember Cliff as a man of strong principles and family values with a heart for people around him, evidenced by his devotion to family, friends, service members and country," said Dr. William Brown, president of the K-State Veterinary Medical Alumni Association. "Many of our conversations included his love of K-State and the College of Veterinary Medicine."
The award was presented at the annual convention of the American Veterinary Medical Association in New Orleans on July 21, 2008. Dean Ralph Richardson presented the award on behalf of the K-State Veterinary Medical Alumni Association.
"We take great pride in honoring the life and career of Col. Cliff Walker," Dean Richardson said. "We deeply regret this honor follows his untimely death; he left us too soon, however we still recognize his valuable contributions to the veterinary profession and his commitment and service to our country. His legacy demonstrates the importance of veterinary medicine in the United States military."
Col. Walker was born in Kansas and earned a bachelor's degree from Southwestern College, Winfield, Kan., in 1971. He worked for the Oklahoma State Health Department until entering the Air Force in 1972. His assignments as a C-130 navigator included Mather Air Force Base, Calif.; Langley AFB, Va.; and McChord AFB, Wash.
Col. Walker separated from the active Air force in 1976 to pursue a career in veterinary medicine while serving with the Air Force Reserve, flying F-4 fighter jets.
Col. Walker received his DVM from K-State in 1982. In 1988, he entered the U.S. Army Veterinary Corps. His assignments included Ft. Sam Houston, Texas; Kolding Denmark; commander, 34th medical Detachment, Vicenza, Italy; deputy commander, Southern Veterinary Detachment Europe; commander, Northern California Veterinary Service Support District; commander Great Plains Regional Veterinary Command; Coalition Forces Land Component Command Veterinarian, CENTCOM; and commander, U.S. Army Veterinary Command. He obtained a Master of Public Health degree from the University of Texas Health Science Center, San Antonio, in 1994 and a Master of Strategic Studies degree from the U.S. Army War College in Carlisle Barracks, Pa., in 2002. He was a diplomate of the American College of Preventive Medicine. His military education included the Air Force Squadron Officer School, resident Army Command and General Staff College, and resident of the Army War College.
Col. Walker's military awards included the Legion of Merit, Meritorious Service Medal, Air Medal, Joint Forces Commendation Medal, Army Achievement Medal, Humanitarian Service Medal, Army Expeditionary Medal, National Defense Service Medal and Air Force Navigator Wings.
Col. Walker and his wife, Mette, had two children: Thor and Hanna. He also had two children from his previous marriage: Tracie and Kellie.