Dr. Paula and Timothy Ulrich - DVM Classes of 1990 and 1992
Veterinary Meeting & Expo 2019 (formerly NAVC)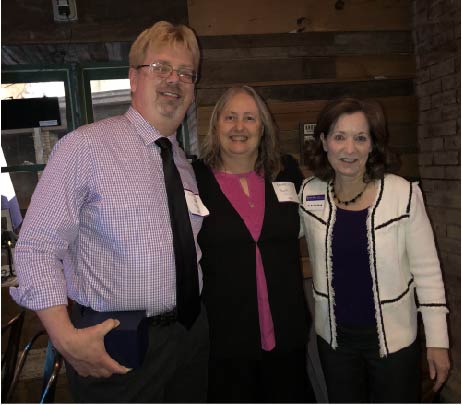 Drs. Timothy and Paula Ulrich, Troutman, North Carolina, were selected by the Kansas State University College of Veterinary Medicine's Alumni Association for its 2019 Alumni Recognition Award presented Jan. 20, 2019 in Orlando, Florida, during the annual Veterinary Meeting and Expo. The award is given to veterinarians whose careers have served as exemplary role models for future alumni in a professional and community setting.
Both graduates of Kansas State University's College of Veterinary Medicine, the Ulrichs have practiced veterinary medicine together for nearly three decades. Dr. Paula Ulrich earned her Doctor of Veterinary Medicine degree in 1990 and Dr. Timothy Ulrich earned his Doctor of Veterinary Medicine degree in 1992.
"Dr. Paula and Timothy Ulrich are a unique couple who are great veterinarians and humanitarians," Interim Dean Dr. Bonnie Rush said. "We hope their careers inspire other veterinarians to find meaningful ways to serve their communities and beyond."
The Ulrichs started their veterinary careers in Manning, Iowa, doing mixed practice until 1993. In 1993, they moved to North Carolina—Timothy practicing in Troutman, North Carolina, and Paula practicing in Maiden, North Carolina. The couple had a son, Logan, in 1994, followed by a daughter, Rebecca, in 1995, and then another son, Micah, in 1998.
The Ulrichs then worked with World Concern/Christian Veterinary Mission for a project in Eastern Uganda from 2000 to 2002.
"We have been blessed to serve the people of rural Uganda by training local pastors and church members in animal health, micro-finance and bible study," Dr. Paula Ulrich said. "We have had the opportunity to watch veterinary students grow in their knowledge of animal disease and their ability to communicate love and compassion across language barriers."
Following their time in Uganda, the Ulrichs returned to North Carolina and their respective practices from 2002 to 2008. At that time they then returned to Africa with Christian Veterinary Mission — this time South Africa.
"We returned to South Africa from 2008-2010," Dr. Timothy Ulrich said, "And taught animal health at North West University. We are now empty nesters and doing full-time relief work."
With their current residence in North Carolina, the Ulrichs now do regular relief work at Troutman Animal Hospital, Maiden Small Animal Hospital, and Lake Norman Animal Hospital in Mooresville, North Carolina. The couple is actively involved in their local church, River Life Fellowship of Mooresville, North Carolina, and are members of the American Veterinary Medical Association and North Carolina Veterinary Medical Association.
"This award was a complete surprise and tremendous honor," Dr. Timothy Ulrich said. "Paula and I have simply taken all the value and education K-State empowered us with and lived out our lives as best we could. We've had opportunities to serve overseas and have been ambassadors of Wildcat Pride the world over."
Dr. Paula Ulrich echoed her husband's sentiments. "I am speechless to receive this award," she said. "Thank you to the Veterinary Medical Alumni Association for the honor. We have been richly blessed to serve in both long-term and short-term capacities with Christian Veterinary Mission around the world, using our veterinary skills and making friends around the world."