Dr. Tom Purinton - DVM 1965
North American Veterinary Conference 2011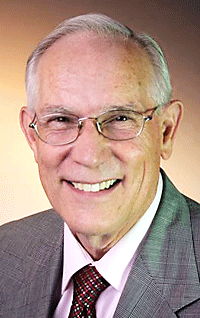 Dr. Tom Purinton, Athens, Ga., was the recipient of the 2011 Alumni Recognition Award for the North American Veterinary Conference held in Orlando, Fla., on Jan. 16, 2011.
Dr. Purinton received his DVM at K-State in 1965. He then completed an internship in small animal medicine and surgery at the University of Minnesota in 1966 and continued his education there, receiving a doctorate in veterinary anatomy with a minor in clinical neurology in 1972. After obtaining his Ph.D., Dr. Purinton joined the faculty at the K-State College of Veterinary Medicine in the anatomy and physiology department. In 1975 he joined the faculty of the anatomy and radiology department at the University of Georgia where he taught until his retirement in 2008.
"It is truly an honor to be recognized by my alma mater with this alumni award," Dr. Purinton said. "Kansas State provided me with a great foundation for my journey in this wonderful profession of veterinary medicine. I hope that I have been at least half as good an example and mentor for my students as the K-State faculty members were for me."
"Our college is very proud to recognize Dr. Purinton as an outstanding alumnus," Dean Richardson said. "His success and leadership skills are self-evident. He has excelled as an educator and helped guide generations of students toward successful and productive careers as veterinarians."
Dr. Purinton has held several leadership roles throughout his career. He is an honorary member of Aghon, the Agriculture Honor Society at the University of Georgia, and a past member of the Athens Track Club, serving as its president in 1987. He is also a member of the Beta Theta Pi fraternity and was a vice president of its board of trustees from 2000 to 2003, the commissioner for alumni education from 2003 to 2005 and president from 2005 to 2011.
Dr. Purinton received the Norden Teaching in 1986 and 2004 and the Josiah Meigs Award for Teaching Excellence in 2004, which is Georgia's top teaching recognition honor. He received the college's Faculty Recognition Award eight times, as chosen by each year's first-year class.
Dr. Purinton has been a member of the American Association of Veterinary Anatomists, American Veterinary Medical Association and World Association of Veterinary Anatomists.
Dr. Purinton is married to Molly (Ruliffson). The Purintons have one son Scott; and two daughters: Amy and Sarah; and nine grandchildren.