Dr. David A. Swerczek - DVM 1969
Nebraska Veterinary Medical Association 2016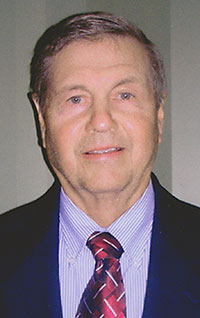 Dr. David A. Swerczek, Kearney, Nebraska, was selected as the recipient of the 2016 Alumni Recognition Award for the winter meeting of the Nebraska Veterinary Medical Association being held in Kearney, Nebraska. The award was presented Jan. 22, 2016 by the Kansas State University Veterinary Medical Alumni Association in recognition for the time and effort devoted to advancing veterinary medicine and for being an exemplary role model for future alumni in a professional and community setting.
Dr. Swerczek was born in Cedar Rapids, Nebraska. He earned his doctor of veterinary medicine degree at Kansas State University in 1969 and has been employed by the USDA Food Safety and Inspection Service from 2001 to 2014 as an inspector in charge and supervisory public health veterinarian.
"I have always been very proud of the education I received at Kansas State University," Dr. Swerczek said. "I am honored to receive this award"
"We are pleased to recognize Dr. Swerczek and his excellent record of service to public health," said Dr. Tammy Beckham, dean of the College of Veterinary Medicine. "Food safety is one of our college's primary objectives, so this gives us an opportunity to show how veterinarians, in particular, our alumni and our future graduates can make a positive impact on sustaining good public health practices."
After graduating from Kansas State University, Dr. Swerczek served in the United States Air Force and achieved the rank of captain. He was awarded an Air Force Commendation Medal in 1971. He then went into private practice in Auburn, Nebraska, from 1971 to 1972, in Hartington, Nebraska, from 1972 to 1973 and in Wayne, Nebraska, from 1973 to 2001.
Dr. Swerczek has been a member of the Nebraska Veterinary Medical Association, serving as president, vice-president and secretary of its District III from 1975 to 1978. He was chair of Professional and Consumer Relation of the Nebraska Veterinary Medical Association from 1988 to 1991. He is also a member of the American Veterinary Medical Association and the National Association of Federal Veterinarians. Dr. Swerczek served on the Wayne, Nebraska, Chamber of Commerce from 1972 to 2001.
Dr. Swerczek and his wife, Kathryn, have two children: Ann and Michael.