Dr. Jean Sonnenfield - DVM 2000
North American Veterinary Conference 2017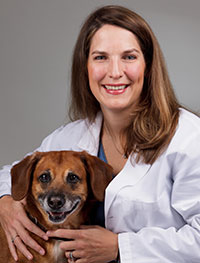 Dr. Jean Sonnenfield, Atlanta, Georgia, has been selected to receive a 2017 Alumni Recognition Award from the Kansas State University College of Veterinary Medicine at the North American Veterinary Conference in Orlando, Florida, on Feb. 7.
Dr. Sonnenfield received a bachelor's degree in biology, graduating summa cum laude, in 1992 and her doctor of veterinary medicine degree, also summa cum laude, in 2000, both at Kansas State University. From 1997 to 2003, she earned a DPhil in clinical biochemistry at Oxford University in England. While at Oxford, she also represented the university in soccer and rugby and received five blues. Dr. Sonnenfield completed a one-year internship in small animal medicine and surgery at the University of Georgia, and then practiced as an associate veterinarian at a practice in Atlanta for three years. She then joined Georgia Veterinary Specialists (now BluePearl Sandy Springs) as an emergency clinician and became head of the emergency service as well as the internship program. In addition to her clinical duties she currently serves as vice president of development for BluePearl Veterinary Partners.
"It is a great honor to be the recipient of the 2017 alumni recognition award," Dr. Sonnenfield said. "K-State has always had a special place in my heart. Without the great education, mentorship and support I would never have been able to achieve what I have. K-State is a truly unique institution that challenges students to be the best veterinarians they can be and gives them the support to achieve it."
"We are delighted to have this opportunity to recognize an alumna who is making a difference for animal health and welfare in her local community," said Dr. Tammy Beckham, Dean of the College of Veterinary Medicine. "We are proud that Dr. Sonnenfield helps guide young, aspiring veterinarians through her leadership in overseeing her practice's internship program. We look forward to see how she will contribute to the profession as her career continues."
Dr. Sonnenfield is a member of the American Veterinary Medical Association, Georgia Veterinary Medical Association, Cobb County Veterinary Medical Association and International Veterinary Emergency and Critical Care Society. While in college, Dr. Sonnenfield was a Truman scholar and Brasenose scholar, was on the All-American Academic Team and played women's soccer for Kansas State.
Dr. Sonnenfield and her husband, Gareth Morgan, have two boys: Anthony John, age 12, and Nicholas Edward, age 11.