Dr. Steven Slusher
American Association of Equine Practitioners 2011
Dr. Steven Slusher, DVM 1970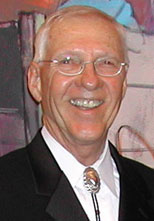 Dr. Steven Slusher, Tulsa, Okla., was the 2011 Alumni Recognition Award recipient for the American Association of Equine Practitioners annual conference in San Antonio on Nov. 20, 2011.
Dr. Slusher received his DVM from K-State in 1970 and earned his master's degree from Oklahoma State University in 1984. He is also board-certified by the American College of Theriogenology. After graduating, he joined the United States Air Force Veterinary Corps as a major at the Minot Air Force Base for two years. Dr. Slusher moved to Tulsa, Okla., and worked in a private practice from 1972 to 1978. In 1978, he joined the faculty at Oklahoma State University as an equine clinician. He worked at OSU until 2001, and also worked at the McConnell Air Force Base in Wichita, Kan., from 1980 to 2001. Dr. Slusher traveled to the United Arab Emirates to work in the Dubai Equine Hospital from 2001 to 2007. After his return to the United States, he retired and now works part time at a small animal practice in Tulsa. He is also Track Veterinarian for Will Rogers Downs, Claremore, Okla., for its spring and fall race meets.
"I am pleasantly surprised by this award, but at the same time quite humbled to be affiliated with an elite group of K-State veterinary alumni," Dr. Slusher said. "I am certain my veterinary education at K-State provided the foundation necessary to attain my professional goals. Our veterinary instructors gave us the information, issued professional challenges, and continued with their support following graduation. They also instilled in all of us a deep seated pride of being graduates of the K-State College of Veterinary Medicine."
"Dr. Slusher has been involved in an extraordinarily diverse range of settings in regards to equine and animal health," said Dean Ralph Richardson. "His dedication and service serve as both an inspiration and an example for young veterinarians to follow. It is truly an honor to recognize his career with this award."
Dr. Slusher holds several memberships to professional organizations such as: American Veterinary Medical Association, AAEP, Oklahoma Veterinary Medical Association and Society for Theriogenology. He was also recognized by OSU in 1982 as the Phi Zeta Scholastic Honorary.
Dr. Slusher is married to Nancy Jo. They have one daughter, Amy Jo, and one son, Scott. They have four grandchildren.