Dr. Mark Skeels - DVM 1986
North American Veterinary Conference 2002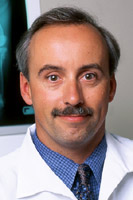 Manhattan -- Two graduates of Kansas State University's College of Veterinary Medicine were recognized by K-State's Veterinary Medical Alumni Association.
Dr. John W. Harvey and Dr. Mark N. Skeels received Alumni Recognition Awards at the K-State alumni reception held in conjunction with the North American Veterinary Conference. The awards ceremony took place January 13, 2002 in Orlando, Florida. The veterinarians were recognized for time and effort devoted to advancing the profession of veterinary medicine and for being exemplary role models for future alumni of the College of Veterinary Medicine at Kansas State University.
Originally from Mendham, N.J., Dr. Mark N. Skeels earned a bachelor's degree in Animal Science and Industry in 1981 and a doctor of veterinary medicine degree in 1986 from K-State. As a veterinary student, Dr. Skeels earned the Weide Award for Proficiency and Performance in Veterinary Diagnostic Medicine in 1983 and the Excellence in Equine Reproduction in Clinical Practice award shortly before graduation.
Soon after, he began Veterinary Imaging Associates to perform ultrasound exams in nearly 300 hospitals across the New Jersey and New York area. By 1994 the practice grew to five doctors and other mobile sonographers. It became the largest mobile ultrasound practice of its kind.
In 1995, Dr. Skeels extended transtelephonic ECG services to nearly 1,500 hospitals across the nation. By utilizing current technology and up to 32 board certified specialists to perform remote consultations on cases in 40 states, Veterinary Imaging became the largest telemedicine consulting group just a few years later.
In 2000 Dr. Skeels merged his company with Sound Technologies, one of his largest users of telemedicine services. The merger enabled mobile ultrasound services to go nationwide and reach eight other major cities. Dr. Skeels' current role with Sound Technologies is chief medical director and manager of veterinary mobile services. The company now employs 120 workers and consultants in 20 states.
Dr. Skeels is also involved in two other business ventures. He is an owner of the soon to be completed Veterinary Imaging and Radiation therapy facility in Clifton, N.J. This facility will provide MRI and CT imaging as well as radiation therapy to the New York and New Jersey metropolitan areas. This is the first facility of its kind to be 100 percent dedicated to animals. Dr. Skeels is also the co-founder of HyperCat, a franchise organization providing radiation treatment for cats with hyperthyroid disease.
Dr. Skeels is on the board of directors for the non-profit Society of Aquatic Veterinary Medicine, which provides education seminars around the world on marine and land based animal issues. He plays an active role in numerous professional organizations including the American Veterinary Medical Association, New Jersey Veterinary Medical Association, Metropolitan New Jersey Veterinary Medical Association and Northern New Jersey Veterinary Medical Association.
Dr. Skeels and his wife Shelli, a 1985 graduate of the K-State College of Veterinary Medicine and owner of Montville Animal Hospital, live in the Pocono mountains of New Jersey and are active members of the their yacht club and water-ski groups. They spend most of their vacation time traveling throughout the world on ecotravel and scuba diving excursions.
The K-State College of Veterinary Medicine is proud to have such outstanding alumni represent our institution and the veterinary profession. Congratulations!