Drs. William & Christen Skaer - DVM 1969 & 1999
Central Veterinary Conference 2013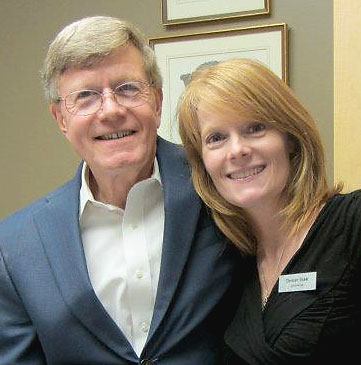 Dr. William C. "Bill" Skaer and Dr. Christen Skaer, Wichita, Kan., were the recipients of 2013 Alumni Recognition Awards presented at the Central Veterinary Conference (CVC) held in Kansas City, Mo., Aug. 24, 2013. These awards are given to veterinarians whose careers have served as exemplary role models for future alumni in a professional and community setting.
Dr. Christen Skaer is the owner of Skaer Veterinary Clinic in Wichita, a practice she bought four years ago from her father Dr. William Skaer, who is also being recognized by K-State at the CVC. He started the practice in 1971 and retired in 2012.
"I became a veterinarian because my hero, my dad, is a veterinarian," Dr. Christen Skaer said. "I watched my dad work tirelessly to care for his patients and their families. He became a part of their family and I wanted to be just like him. I feel so fortunate to be able to take care of the four-legged members of our community and get to love them like my own. I'm grateful each day that our clients allow me the great honor of being their veterinarian. Thank you for this recognition and your friendship."
"When I retired, the thing I missed most was being involved, in the good times and the bad times, in the lives of our wonderful clients and their pets," Dr. Bill Skaer said. "The bond we have with our companion animals is irreplaceable."
"This is a very special opportunity for us to recognize two outstanding Kansas State veterinarians together at one conference," said Dr. Ralph Richardson, dean of the College of Veterinary Medicine. "Bill has had a very long and impressive career in serving Wichita, as well as the state of Kansas and the veterinary profession through active participation and leadership roles. His daughter, Christen, has followed in his footsteps and continued the family tradition by taking a very active role in helping people and animals in Kansas communities at very critical times of need. We are proud that this family is part of our veterinary family at K-State."
Dr. Bill Skaer earned his DVM at K-State in 1969, and he was a captain in the U.S. Air Force from 1969 to 1971. He then opened his veterinary practice in Wichita, which moved to a new facility in 2001. He is a founding member and on the board of directors of a nonprofit spay-and-neuter clinic to serve low income pet owners. Dr. Bill Skaer has been a member of the Sedgwick County Board of Health from 1979 to 1989, and served as the chairman in 1988. He is a member of the Kansas Veterinary Medical Association, and was presented with its Lifetime Service Award in 2010. He is also a member of the American Veterinary Medical Association, American Animal Hospital Association and the Wichita Veterinary Medical Association. He and his wife, Vicki, volunteer at the Wichita Art Museum. In addition to Christen, the Skaers have another daughter, Catherine, and two dogs, Addie and Radar (a rescue from the Greensburg tornado).
Dr. Christen Skaer earned her DVM at K-State in 1999. In addition to operating her veterinary practice, she is president of the Kansas State Animal Response Team, which is designed to train and credential volunteers to respond to animal needs during disasters. She has extensive training in companion animal medicine, surgery and ophthalmology. One of her special fields of interest is animal behavior. In addition to her DVM from K-State, she has a master's degree in environmental studies from Friends University in Wichita, and a certificate in veterinary homeland security from Purdue University, West Lafayette, Ind.
Dr. Christen Skaer was the 1999 Recipient of a Pet Trust (now known as Pet Tribute) scholarship award at K-State. This award is given to a veterinary student each year for outstanding compassion toward pets and owners. More recently, Dr. Skaer was recognized by the Kansas Veterinary Medical Association as its 2008 Veterinarian of the Year for her prompt response and tireless work after the Greensburg tornado in 2007 and for establishing the Kansas State and Sedgwick County Animal Response Teams to aid animals and their people caught up in widespread disastrous conditions regardless of the cause. She is a member of the American Veterinary Medical Association, Wichita Veterinary Medical Association, American Association of Feline Practitioners and American Veterinary Society of Animal Behavior. Dr. Skaer and her husband, Luke Carter, have five furry "kids": Charo, Loretta, Morris, Margo, and Hewson.