Dr. Raymond F. Sis, DVM 1957
American Veterinary Medical Association 2013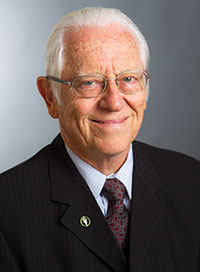 Dr. Raymond F. Sis, Bryan, Texas, was the recipient of the 2013 Alumni Recognition Award presented during the annual convention of the American Veterinary Medical Association (AVMA) held July 22, 2013 in Chicago. The award is given to veterinarians whose careers have served as exemplary role models for future alumni in a professional and community setting.
Dr. Sis, originally from Munden, Kan., earned a bachelor's degree in animal science in 1953 and his DVM in 1957, both from K-State. He is currently the dean of the School of Veterinary Medicine at St. George's University in Grenada.
"I am delighted, honored and humbled to receive this award, because I am very proud of my alma mater," Dr. Sis said. "K-State has really made a difference in my life. When I go back to Manhattan, I feel like I am going home. I am thankful to the Veterinary Medical Alumni Association for honoring me with this award and I thank the university for giving me the education I needed to become a veterinarian. I am grateful to my wife, Jan, who I met on a blind date at K-State, and our children and grandchildren for their many years of support."
"It is not often we have the opportunity to recognize the dean of a veterinary program, particularly in a national setting such as at the AVMA convention," said Dr. Ralph Richardson, dean of the College of Veterinary Medicine. "Dr Sis' career has been exemplary – from being a highly skilled surgeon as well as productive scientist and educator to becoming an inspiring leader in veterinary education. We are very proud to recognize his outstanding career through this award."
After leaving K-State, Dr. Sis served four years in the U.S. Air Force as base veterinarian. He then became an environmental health officer in the Air Force Reserve for 25 years. He received the Air Defense Command Commendation and the Air Force Commendation Medal for his work in the Newcastle Disease Eradication Project in California in 1972. On retiring from the Air Force Reserve, he received the Air Force Meritorious Service Medal.
Dr. Sis continued his education at Iowa State University where he earned a master's degree in small animal surgery in 1962. Three years later, he received a doctorate in veterinary anatomy. During this time, Dr. Sis joined the staff of the Iowa State University Small Animal Medical Clinic. While at Iowa State, he was the course director of Small Animal Surgery and Veterinary Anatomy, as well as a member of the graduate faculty.
Following the completion of his graduate studies, Dr. Sis was appointed to the faculty in the College of Veterinary Medicine at Texas A&M University, where he taught for 35 years. Shortly after joining the TAMU faculty, he was promoted to full professor and head of the Veterinary Anatomy Department. Dr. Sis held that position for 15 years, and was, at various times, the course director for every course in his department's curriculum. For nine years, Dr. Sis served as co-director of both the Aqua Med Program and Aquatic Animal Medicine Continuing Education Program.
Dr. Sis has worked in Egypt, Ecuador, Lithuania, China, Mexico, the Dominican Republic, Uganda and Grenada. For 10 years, he served as principal investigator for an international research training program funded by the National Institutes of Health, where graduate students learned how to conduct research in countries around the world.
Dr. Sis was appointed dean of the St. George's University School of Veterinary Medicine in April 2003, after serving as the associate dean of students. He tenaciously led the school toward the goal of accreditation throughout the last nine years. In 2009, the Grenadian Ministry of Education reaccredited the school, paving the way for his larger goal of full accreditation from the Council on Education of the AVMA. After a comprehensive site visit in April 2011, the council granted the school full accreditation for seven years.
Dr. Sis is an honor roll member of the AVMA. He served on the board of directors of the Texas Veterinary Medical Association for five years and the board of directors of the American Association of Feline Practitioners for four years. He is a past president of the following organizations: International Association of Aquatic Animal Medicine; American Association of Veterinary Anatomists; Texas Branch of the American Association for Laboratory Animal Science; Brazos Valley Veterinary Medical Association, Alpha Zeta Chapter of Alpha Gamma Rho and the TAMU-AGR Alumni Association. He is a past vice-president of the Texas Academy of Veterinary Practice.
Dr. Sis and his wife Jan, have five children: Susan, Valerie, Mark, Michael, and Amy.