Dr. Douglas Schwenka - DVM 1988
Nebraska Veterinary Medical Association 2015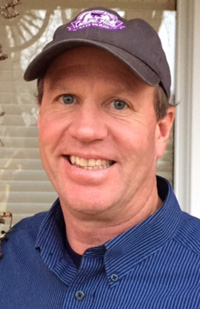 Dr. Douglas Schwenka, Hastings, Nebraska, was selected as the recipient of the 2015 Alumni Recognition Award for the winter meeting of the Nebraska Veterinary Medical Association being held in Omaha, Nebraska. The award will be presented Jan. 23, 2015 by the Kansas State University Veterinary Medical Alumni Association in recognition for the time and effort devoted to advancing veterinary medicine and for being an exemplary role model for future alumni in a professional and community setting.
Dr. Schwenka was born in Minden, Nebraska. He earned his doctor of veterinary medicine degree at Kansas State University in 1988 and has been in a four-person mixed practice called Animal Clinic, serving Hastings and the surrounding communities since 1989. In 2009, Dr. Schwenka was presented with the Veterinarian of the Year Award by the Nebraska Veterinary Medical Association.
"I am truly humbled and honored to receive this award," Dr. Schwenka said. "The Kansas State University College of Veterinary Medicine has a special place in my heart. It was four wonderful years of quality education that allowed me to pursue my childhood dream. Twenty-six year later, the College of Veterinary Medicine continues to be a valuable resource for our general mixed practice, both as a referral center and as a diagnostic lab."
"Dr. Schwenka has shown great devotion to the veterinary profession and to his community as well," said Dr. Ralph C. Richardson, dean of the College of Veterinary Medicine. "His involvement in the cattle industry and local service clubs demonstrates different ways veterinarians can contribute to society. We are very proud to recognize him among his peers in Nebraska."
Dr. Schwenka is the past-president of District V and a member of the board of directors of the Nebraska Veterinary Medical Association. He has is also a past-president and board member of the YMCA, and past-president and charter member of the Hastings Sunrise Rotary Club. Dr. Schwenka is a member of the American Veterinary Medical Association, American Association of Bovine Practitioners and American Animal Hospital Association. He has served as a Beef Quality Assurance trainer with the Nebraska Cattlemen Association.
Dr. Schwenka and his wife, Linda, have three children: Jonathan, Beau and Madison.