Dr. Sam Rivera - DVM 1996
North American Veterinary Conference 2015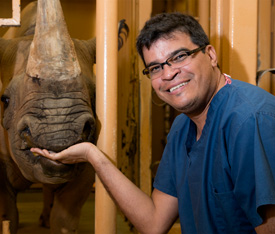 Dr. Sam Rivera, Canton, Georgia, was selected to receive a 2015 Alumni Recognition Award at the North American Veterinary Conference in Orlando, Florida. The award will be presented Jan. 18, 2015 by the Kansas State University Veterinary Medical Alumni Association.
Dr. Rivera, who was born in Ponce, Puerto Rico, earned a bachelor's degree in microbiology in 1992, and a doctor of veterinary medicine degree and master's degree in veterinary pathobiology in 1996, all at Kansas State University. He is now employed as the senior veterinarian at Zoo Atlanta. He is board-certified in avian medicine by the American Board of Veterinary Practitioners.
"It is an honor and a privilege to be recognized by your peers," Dr. Rivera said. "I feel it is undeserved. We all strive to do the best job we can at what we were trained for. The superb training gained at our veterinary college, combined with a deeply rooted passion for what we do, goes a long way in enhancing our well-being and that of those we serve."
"It is a great pleasure to recognize one of our younger alumni who is making a tremendous impact in the veterinary profession as well in his local community," said Dr. Ralph Richardson, dean of the College of Veterinary Medicine. "Dr. Rivera has been involved in some very noteworthy projects at Zoo Atlanta, and we are excited to see what he will accomplish in the future."
Dr. Rivera did preceptorships at the St. Louis Zoo and Bronx Zoo during his studies at the College of Veterinary Medicine. He moved to Atlanta in 1996 and joined a busy small animal and exotics practice until 2005. He joined Zoo Atlanta as a part-time veterinarian in 1999 and has served as a full-time veterinarian since 2005. His interests in animal health also extend to cutting-edge research and critical conservation initiatives. Projects include ongoing health assessments for wild sea turtles in the Caribbean, and in 2009, a prestigious invitation to participate in Project Pinta, an ambitious effort to restore giant tortoises to their native island in the Galapagos. Dr. Rivera has also participated in other wildlife conservation projects around the globe. Dr. Rivera has lectured at national and international conferences and has published work in the field of zoo and exotic animal medicine.
Dr. Rivera is a member of the American Veterinary Medical Association, American Association of Zoo Veterinarians, Association of Avian Veterinarians, and Association of Reptilian and Amphibian Veterinarians. He received the Recent Graduate Award from the Georgia Veterinary Medical Association in 2005, and the Volunteer of the Year Award from the Cochran Mill Nature Center, Palmetto, Georgia in 2002.
Dr. Rivera and his wife, Dr. Brenda Klement, who received her Ph.D. from the Division of Biology at Kansas State University in 1994, have two daughters: Keiandra and Keimarya.