Dr. William Rishel - DVM 1973
Nebraska Veterinary Medical Association 2012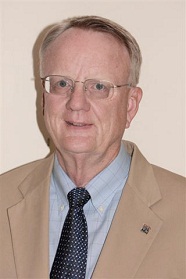 Dr. William Rishel, of Plattsmouth, Neb., and Glenwood, Iowa, was the 2012 recipient of the Alumni Recognition Award for the winter meeting of the Nebraska Veterinary Medical Association held on Friday, Jan. 27, 2012 in Omaha, Neb.
Dr. Rishel earned his DVM from K-State in 1973. After graduation, he went to work for a mixed animal practice in Plattsmouth, Neb. Shortly after Dr. Rishel was hired, the clinic added a satellite clinic in Glenwood, Iowa. He worked at both clinics until 1980. In 1980, Dr. Rishel purchased the Glenwood Clinic, where he was joined by partner, Dr. Darcey Butts, in 1984. He has practiced in Glenwood, Iowa, for 39 years.
Dr. Rishel is well-known for his participation in Christian Veterinary Mission. He has done short term mission trips to Nepal, India, Uganda and Bolivia. U.S. short term trips include the Navajo, Apache and Lakota Sioux Reservations. Most of these trips have been with veterinary students. He has helped with veterinary student mentoring weekends through the Christian Veterinary Mission for the last 12 years.
"I have always appreciated the education and mentoring I received while at Kansas State,"
Dr. Rishel said. "I have been blessed with opportunities to pass on a small portion of what was given to me."
"Dr. Rishel's lifelong commitment and dedication to veterinary medicine is quite extraordinary," Dean Richardson said. "This is shown through his active volunteer efforts, particularly the missionary trips to countries with limited access to proper animal health practitioners. It is quite an honor to recognize Dr. Rishel with this alumni recognition award."
Dr. Rishel is involved in several professional organizations, including: American Veterinary Medical Association, American Association of Equine Practitioners, Iowa Veterinary Medical Association and the Nebraska Veterinary Medical Association.
Dr. Rishel is married to Marilyn and they have two children: April and Andrew.