Dr. Robert Ridgway - DVM 1971
North American Veterinary Conference 2014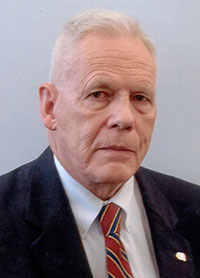 Dr. Robert Ridgway, Orlando, Fla., is the recipient of a 2014 Alumni Recognition Award presented at the North American Veterinary Conference held in Orlando, on Jan. 19.
Dr. Ridgway, who was born in Dodge City, Kan., earned a bachelor's degree at Fort Hays State University in 1962 and a second bachelor's degree at Kansas State University in 1969. He earned his doctor of veterinary medicine degree at K-State in 1971. Dr. Ridgway completed a residency in internal medicine at the University of California, Davis. After graduation, he worked for a short time at a veterinary hospital in Topeka, Kan., before entering the U.S. Army Veterinary Corps, where he became director of the Animal Medicine Division in Okinawa, Japan. He was the first U.S. Army officer to be in charge of the Department of Defense Military Dog Veterinary Service at Lackland Air Force Base in San Antonio and received a master's degree in international management from the University of Maryland in 1999. After retiring from the Army, Dr. Ridgway worked at Covance Laboratories, Banfield Pet Hospital and Orange County Animal Services in Orlando. He has authored two books on animal health, "How to Treat Your Dogs and Cats with Over-the-Counter Drugs" in 2011 and "The Truth about Dog and Cat Treatments and Anomalies" in 2013.
"No one could fail but to be deeply moved and honored by such a tribute as the Kansas State University College of Veterinary Medicine Alumni Award coming from a profession I have loved and served for so many years," Dr. Ridgway said. "For me the recognition is an expression of the professional ethics and commitment that is expressed in this sublime award. It arouses in me a sense of humility and pride, which will be with me always."
"Dr. Ridgway has had a very diverse career path including his service to our country as a military veterinarian," said Dr. Ralph Richardson, dean of the College of Veterinary Medicine. "In addition to his recent books for pet owners, he has written and collaborated on several published academic articles over the years, and has specialized in the fields of cardiology and ophthalmology. We salute his commitment to veterinary medicine and the different ways he has contributed to our profession."
Dr. Ridgway is a diplomate in both the American College of Preventive Medicine and in the College of Laboratory Animal Medicine. He has held appointments as adjunct professor in the Department of Small Animal Medicine and Surgery at Texas A&M University and parasitology instructor in the veterinary technician program at Northern Virginia Junior College. He is a member of the American Veterinary Medical Association, the American Society of Laboratory Animal Practitioners, the District of Columbia Academy of Veterinary, District of Columbia Veterinary Medical Association and Kansas Veterinary Medical Association. He is also a past-president of Rotary Club.
Dr. Ridgway has received a commendation letter from U.S. President George Bush, a commendation from the governor of Kansas, the Leadership Award from the Association of the U.S. Army, Officer of the Year Award at the Madigan Army Medical Center, Legion of Merit Award from the Army, four Meritorious Service Medals, two Army Commendation Medals, the Paul Harris Fellow Award from Rotary International and the District Award of Merit and Silver Beaver Award from the Boy Scouts of America.
Dr. Ridgway and his wife, Carolyn, have one daughter, Joan.