Dr. Lawrence Pultz - DVM 1973
North American Veterinary Conference 2015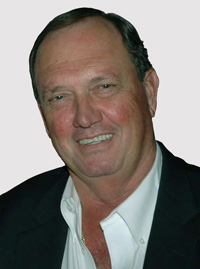 The late Dr. Lawrence "Larry" Oliver Pultz, Winter Springs, Florida, was the recipient of a posthumous 2015 Alumni Recognition Award at the North American Veterinary Conference in Orlando, Florida, presented Jan. 18 by the Kansas State University Veterinary Medical Alumni Association in recognition for time and effort devoted to advancing veterinary medicine and for being an exemplary role model for future alumni in a professional and community setting.
Dr. Pultz was the founder of the Town and Country Veterinary Clinic in Oviedo, Florida, and was well-known in eastern Seminole County, where for 30 years he took care of dogs, cats, horses, cows, peacocks, turtles — and any other animal that needed help. He was born in Puerto Rico and grew up on the island's now-closed Roosevelt Roads Naval Station, attending a base school from kindergarten through 12th grade. His father was a civilian employee.
Dr. Pultz, who spoke both English and Spanish, earned a bachelor's degree and Doctor of Veterinary Medicine at Kansas State University in 1971 and 1973, respectively. He passed away July 23, 2014.
"The news of Dr. Pultz's passing was quite unexpected and very heartbreaking," said Dr. Ralph Richardson, dean of the College of Veterinary Medicine. "He had been a regular attendee at the North American Veterinary Conference each year, meeting up with other K-State veterinary alumni at our annual reception, so we feel like this is a perfect time to help celebrate his memory and his career."
Dr. Pultz has been described as "a John Wayne"-type — tall and strong, right down to his cowboy hat. He was also described as a tender-hearted father who insisted on rocking his babies to sleep and a veterinarian who'd get up in the middle of the night to care for a sick animal.
Dr. Pultz met his wife, Martha Römer, a Kansas State University student majoring in landscape architecture, when she took three sick Labrador puppies to the university's veterinary hospital. The two married in 1973, and then moved to Ceiba, Puerto Rico, where Dr. Pultz cared for both small and large animals, including race horses. Dr. Pultz started his first mixed-animal veterinary practice in Fajardo and worked with horses at El Comandante Race Track.
In the early 1980s, the family moved to Florida. They settled in Tuscawilla where they acquired horses, dogs, cats, birds and a tortoise. Dr. Pultz opened the Town and Country Veterinary Clinic in Oviedo in 1984.
Dr. Pultz was a member of the Florida Veterinary Medical Association, American Veterinary Medical Association, American Association of Equine Practitioners, American Association of Bovine Practitioners, Kansas Veterinary Medical Association, Florida Association of Equine Practitioners, National Cattlemen's Beef Association, Florida Cattlemen's Association, Central Florida Veterinary Medical Association, and the Colegio de Médicos Veterinarios de Puerto Rico. He supported programs and projects associated with FFA and 4-H, including livestock projects for the Central Florida Fair. He also helped sponsor an annual low-cost rabies and vaccination drive with the Central Florida Fox Hunters Association. Dr. Pultz held a seat on the Seminole County Animal Control Board, supported youth athletic teams (baseball, soccer, Oviedo and Winter Springs High School Athletic Boosters) and was a proud member of the NRA, and passionate supporter of Shriners and St. Jude Children's Research Hospitals.
Dr. Pultz and his wife have four children: a son, Christian; a daughter, Dr. Jennifer Pultz, a veterinarian who graduated from Colorado State University; another son, Lawrence; another daughter, Wendy Fox of Kansas City, Missouri; and a granddaughter, Britnei Fox, and great-granddaughter, Summer Burris.