Dr. Alfred Nelson Poindexter Jr. - DVM 1945
American Veterinary Medical Association 2005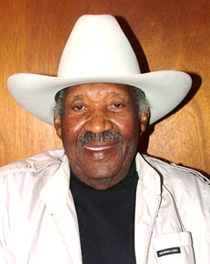 Dr. Alfred Nelson Poindexter Jr., Prairie View, Texas, was selected by the Kansas State University College of Veterinary Medicine and its Veterinary Medical Alumni Association to receive a 2005 Alumni Recognition Award. The award is in recognition for time and effort devoted to advancing veterinary medicine and for being an exemplary role model for future alumni in a professional and community setting.
The award was presented at the annual convention of the American Veterinary Medical Association in Minneapolis, Minn., on July 17. Dean Ralph Richardson presented the award on behalf of the K-State Veterinary Medical Alumni Association.
Before his retirement in August 2004, Dr. Poindexter was the oldest practicing African American veterinarian in the United States.
Dean Richardson counts Dr. Poindexter as one of the College of Veterinary Medicine's most respected graduates who has had a unique veterinary career. "We are very proud to claim him as one of the shining stars of veterinary medicine and are thankful that he has been such a positive role model for our profession, particularly for African-American students. As we strive to increase the proportion of under-represented minority veterinary students at K-State, we are quick to refer to Dr. Poindexter's career as one that has made a positive difference for so many people," Richardson said.
Dr. Poindexter, a Kansas City, Mo., native, attended the Kansas State Teachers College at Pittsburg, Kan., and received his Doctor of Veterinary Medicine degree at K-State in 1945. Dr. Poindexter then began his career at Prairie View A&M University as an adjunct lecturer. In 1947, he became a professor in the College of Agriculture and Human Sciences and university veterinarian, a position he held for 59 years until his retirement in August 2004. During his time at Prairie View A&M University, Dr. Poindexter taught classes on anatomy and physiology, diseases and sanitation, animal health, animal breeding and reproductive physiology. He also provided veterinary services to the community and counties within a 150 mile radius.
In 1947, Dr. Poindexter became one of the first two African American members of the Texas Veterinary Medical Association. In 1992, he was selected by the Texas commissioner of agriculture as one of the four most outstanding black agriculturalists in the state. He has also received the Humanitarian Award from Banneker Honors College and has a Gold Card Membership in the American Veterinary Medical Association. In 1995, Dr. Poindexter established the $300,000 A. N. Poindexter scholarship fund for students attending Prairie View A&M University. In 1996 he was the recipient of the George Washington Carver Award for Public Service from Tuskegee University. Also that year, he was inducted into the Texas Heritage Hall of Honor.
Dr. Poindexter and his wife of 63 years, Rachael, have five children and six grandchildren. In his spare time, he enjoys hunting, fishing and spending time with his family.
Throughout his 59 years of teaching and practicing, he has relied on support from many different people in his life. "I owe all of my success to hard work, the guidance of my wife, Rachael, and my family," Dr. Poindexter said. "They all have had a positive impact on my life in some way or another."