Dr. Randall E. Pedersen - DVM 1965
Nebraska Veterinary Medical Association Conference 2009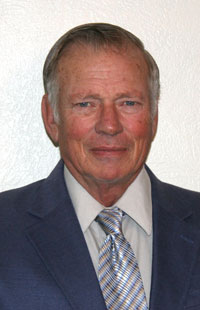 Dr. Randall E. Pedersen, Royal, Neb., was selected by the Kansas State University College of Veterinary Medicine and its Veterinary Medical Alumni Association to receive a 2009 Alumni Recognition Award at the winter meeting of the Nebraska Veterinary Medical Association (NVMA) on Jan. 23, 2009 in Omaha, Neb. The award is in recognition for time and effort devoted to advancing veterinary medicine and for being an exemplary role model for future alumni in a professional and community setting.
Dr. Pedersen earned a bachelor's degree in 1961 and a DVM in 1965, both at Kansas State University. He worked in private practices in Wetmore, Kan., Plymouth, Neb., and Beatrice, Neb., from 1965 to 1996, before moving to Royal, where he practices primarily in dairy herd health reproduction. His work includes travel to 11 states.
"My time at K-State as a veterinary student was very special to me," Dr. Pedersen said. "It is because of the guidance I received there that I was able to work in this great profession and realize some tremendous opportunities in my life. It is very humbling to be recognized by my colleagues."
"Dr. Pedersen deserves this recognition, not only for an impressive career, but because he has been a strong supporter of K-State," said Ralph Richardson, dean of the K‑State College of Veterinary Medicine. "He sits on the board of a charitable foundation that has supported more than a dozen veterinary students attending K-State. He obviously cares deeply about the profession and our program, and we can't thank him enough."
Dr. Pedersen is a member of the NVMA, American Veterinary Medical Association, American Association of Bovine Practitioners (AABP), and Academy of Veterinary Consultants. He has also received the American Fisheries Society Conservation Award, FFA Honorary Chapter Farmer Award; and was on the Royal School Board; Reproduction Committee for AABP; the Royal Zoo Board of the Northeast Nebraska Zoological Society; Tri-County School Board, and the Veterinarian School Selection Committee (for Nebraska students going to K-State). He has been a mentor to several veterinary students, and he was the Nebraska State Fair Veterinarian for more than 30 years.
Dr. Pedersen and his wife, Nancy, have three children: Janet, Bruce and Karen; and 14 grandchildren. Bruce received his DVM from K-State in 1992.