Dr. Vern Otte - DVM 1975
Central Veterinary Conference 2015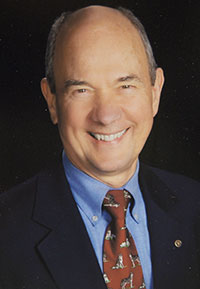 Dr. Vern Otte, Leawood, Kansas, was selected by the Kansas State University College of Veterinary Medicine's Alumni Association for its 2015 Alumni Recognition Award presented during the annual Central Veterinary Conference held in Kansas City, Missouri, on August 29, 2015. The award is given to veterinarians whose careers have served as exemplary role models for future alumni in a professional and community setting.
Dr. Otte, originally from Great Bend, Kansas, earned a bachelor's degree in 1964 and a Doctor of Veterinary Medicine degree in 1975, both at Kansas State University. After graduation, he practiced at Raritan Hospital for Animals (Edison, New Jersey) until 1977. He then owned and practiced at the State Line Animal Hospital, Leawood, from 1977 to 2014, at which time he sold the practice to his associate, whom he now works for. Dr. Otte has been a trail veterinarian for the Iditarod Sled Dog Race for eight years.
"It is humbling and indeed an honor to be recognized by my colleagues," Dr. Otte said. "My education at K-State College of Veterinary Medicine began after a hiatus from K-State during which I served four years in the military and then worked at Farmland Industries. Spending four years in the CVM made me realize I had made the right decision and that I had chosen the perfect profession. Vet school provided the opportunity for me to grow in this exciting and innovative field. It made me want to learn more and more, and I haven't stopped learning 40 years later. There is so much to know in vet medicine and the ball keeps moving with new information. I don't feel like I go to work, but rather that I embark on a new adventure every day. I am proud to be a part of such great profession!"
"Dr. Otte has had a very distinguished career," said Dr. Tammy Beckham, dean of the College of Veterinary Medicine. "In 2003, he was part of a group of K-State veterinary alumni being recognized for military and government service at our 65th Annual Conference for Veterinarians. He has also visited with our students here on campus to share his experiences as a trail veterinarian at the Iditarod Sled Dog Race. His service to the profession in Kansas and Kansas City make it especially appropriate for us to honor him at the Central Veterinary Conference in Kansas City."
In August 1966, Dr. Otte started a 36-year military career with a direct commission in the United States Army Reserve (USAR) as second lieutenant, attending the Army Medical Field Service School at Ft. Sam Houston in San Antonio, Texas. Early on, he held various USAR leadership positions, joining the Army Veterinary Corps after earning his DVM. His first veterinary staff position was with the 302nd Civil Affairs Unit in Kearny, New Jersey. He has held many veterinary medical command and staff officer positions across the nation during his career. He was a staff officer in the 141st Medical Detachment in Columbia, Missouri, and would later command this unit when it was activated for Desert Storm in 1991. He was the first commander of the 445th Medical Detachment, a veterinary service unit in Kansas City, Missouri. His early guidance provided the basis for it to become the premier veterinary detachment in the USAR veterinary service. When he retired from the USAR in 2003, he was serving as reserve chief of the Veterinary Corps Mobilization and Reserve.
There have been several decorations, service medals and badges awarded to Dr. Otte during his years of service. Those medals and badges include the Meritorious Service Medal with 1 Oak Leaf Cluster, Army Commendation Medal with 2 Oak Leaf Clusters, Joint Service Achievement Medal, Army Achievement Medal with 1 Oak Leaf Cluster, Army Reserve Components Achievement Medal with Silver Oak Leaf Cluster, Army of Occupation Medal, National Defense Service Medal with 2 Service Stars, Armed Forces Reserve Medal with 30-year Device and Mobilization Device, Army Service Ribbon, Army Reserve Components Overseas Training Ribbon with Numeral 12, Joint Meritorious Unit Award, Expert Field Medical Badge, United States Army Excellence in Competition Badge Pistol Shot Badge and Marksmanship Qualification Badges.
Dr. Otte has been an active member of the American Veterinary Medical Association, serving on its PAC for eight years, including one year as chair. He has been the delegate/alternate delegate from Kansas from 2000 to present and is currently a member of the AVMA Legislative Advisory Committee. He has also been a member of the Kansas Veterinary Medical Association, Kansas City Veterinary Medical Association and American Animal Hospital Association. He was president of the Kansas Veterinary Medical Association in 1998, president of the Kansas City Veterinary Medical Association in 1987, public relations chair for the American Board of Veterinary Practitioners from 1984-1987 and served on the Kansas Board of Veterinary Examiners for 12 years, including two years as chair.
In 2000, Dr. Otte was named the Kansas Veterinarian of the Year. He has been a member of the Overland Park (Kansas) Rotary for 37 years, serving on its board of directors and as vice president. He is an elder at John Knox Kirk, and has been a docent, at the Kansas City Zoo and presently volunteers at the Museum at Prairie Fire. He is also a former commander of the Greater Kansas City Military Order of World Wars.
Dr. Otte has two children: Jodie and Brian and four grandchildren. He and his wife, Brenda, reside in Leawood, Kansas.