Dr. Lowell Novy - DVM 1960
Western Veterinary Conference 2019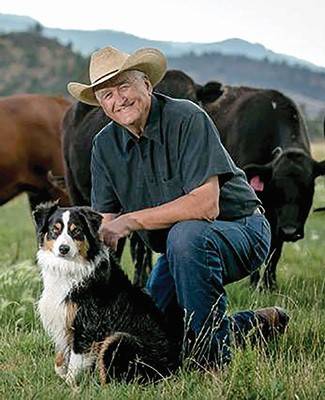 Dr. Lowell Novy, Simi Valley, California, was selected by the Kansas State University College of Veterinary Medicine and its Veterinary Medical Alumni Association to receive a 2019 Alumni Recognition Award. The award was presented Feb. 18, 2019 in conjunction with the Western Veterinary Conference in Las Vegas and is in recognition of his career in veterinary medicine and for having served as an exemplary role model for future alumni in a professional and community setting.
Dr. Novy was born in Wilber, Nebraska, and raised on the plains of Western Kansas where he has been involved with ranching most of his life. He received his Doctor of Veterinary Medicine degree from Kansas State University in 1960. After serving with the U.S. Air Force overseas, Dr. Novy moved to California, where he founded Valley Veterinary Clinic in 1964.
Dr. Novy divides his time between his small animal veterinary practice, public service and managing his cattle ranches in Northern California. For the last 20 years, he has actively promoted the goal of reducing euthanasia of unwanted, abandoned animals and feral cats through the nonprofit organization Valley Veterinary Clinic Charitable Nonprofit Corporation, http://www.valleyveterinaryclinic.com, of which he is the founder and current president. The nonprofit has been so successful that Ventura County Animal Control has reached the rare status of "No Kill" for the last five years.
"I cannot imagine a more fulfilling profession than that of being a veterinarian," Dr. Novy said.
"Dr. Novy has been generous with his time in providing leadership, vision and guidance for finding effective solutions to animal health and welfare," said Dr. Bonnie Rush, interim dean of the College of Veterinary Medicine. "Dr. Novy's passion and dedication will inspire young veterinary professionals to contribute to improving animal welfare in their communities. We are honored to recognize Dr. Novy with this well-deserved award, recognizing his lifetime of service."
Dr. Novy has been the recipient of the Spirit Award from the Free Clinic of Simi Valley, a Hometown Hero award from the Grossman Burn Center, Businessman of the Year from the city of Simi Valley, 2009 Outstanding Service Award from the California Veterinary Medical Association and the 2019 Cortese-Lippincott Award from the Animal Health Foundation in Lake Forest, California.
Dr. Novy is a member of the Santa Barbara Veterinary Medical Association, Southern California Veterinary Medical Association, California Veterinary Medical Association and American Veterinary Medical Association. He has been a long-time supporter of SOAR (Save Open Space and Agricultural Resources) and other conservation efforts throughout California. He is well-known in the community for his generous support of many other service organizations and causes.
Dr. Novy has two daughters, Judith Novy-Holmes and Debra Novy-Bitterly.