Dr. Ross Mosier - DVM 1952
Western Veterinary Conference 2016 - Posthumous Tribute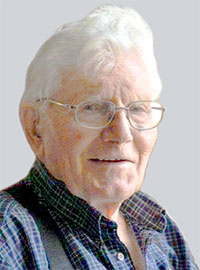 The late Dr. Ross O. Mosier, Spalding, Nebraska, was selected by the Kansas State University College of Veterinary Medicine and its Veterinary Medical Alumni Association to receive a posthumous 2016 Alumni Recognition Award. The award was presented March 7, 2016 at the Western Veterinary Conference in Las Vegas and is in recognition of his career in veterinary medicine and for having served as an exemplary role model for future alumni in a professional and community setting.
Dr. Ross Mosier was born on a farm in near Hoxie, Kansas, in Sheridan County. He was the fourth of 11 children born to Decker and Lela Mosier. Of these children, five would eventually become veterinarians and graduate from Kansas State University. Ross graduated from Hoxie High School in 1944 and then entered the Navy during World War II where he was stationed aboard the USS Ashtabula in the South Pacific. After the war, he attended college at Ft. Hays and Kansas State College, and then attended veterinary school at Kansas State University. He earned his Doctor of Veterinary Medicine degree in 1952.
In the fall of 1952, Dr. Mosier and his wife, Margaret, established a veterinary practice in Spalding. During the time he practiced, two of his brothers joined him (Larry and Don) before establishing their own veterinary practices in Nebraska. Ross practiced solo large animal until April, 2001. A leg injury convinced him to stop making calls. He passed away Oct. 3, 2015.
"We are saddened at the loss of Dr. Mosier," said Dr. Tammy Beckham, dean of the College of Veterinary Medicine. "Dr. Mosier had previously served as president of the WVC, so this is a wonderful opportunity for us to honor his lengthy career and commitment to the veterinary profession."
During Dr. Mosier's retirement, he traveled to Alaska, Canada and to Mexico where he enjoyed a trip with KSU Alumni through the Copper Canyon and the Panama Canal. During the last few years of his life, he became more house-bound as he became disabled due to Parkinson's disease. During this time, he enjoyed sports on television and visits with many friends and relatives. A common theme mentioned by his many clients was that he would take the time to explain an animal's condition and to teach them how to recognize signs and symptoms of disease. They valued him as a teacher as well as "the best Veterinarian they ever knew."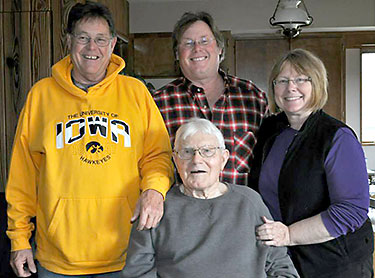 Dr. Mosier was a member of the American Veterinary Medical Association. In addition to serving as president of the WVC, he also served as treasurer for 13 years and as a board member for 20 years.
Dr. Mosier is survived by his three children: Carol Mosier Bach, M.D., Colorado Springs, Colorado; Richard Mosier, Spalding; and Jack Mosier, Spalding. He was also survived by one sister, Louise Simcox, and six brothers Ben, Frank, Dr. Richard, Dr. Larry (DVM alumnus class of 1960), Dr. Steve (DVM class of 1966) and Dr. Stan Mosier. He was preceded in death by one sister, Lila Marie Fansher, and one brother Dr. Jacob "Jake" Mosier, (DVM class of 1945). Another brother, Dr. Donald Mosier (DVM class of 1962), died about three weeks after Ross on Oct. 31, 2015.