The Mosier Family
Kansas Veterinary Medical Association 2005
Dr. Jake Mosier - DVM 1945
Dr. Ross Mosier - DVM 1952
Dr. Larry Mosier - DVM 1960
Dr. Donald Mosier - DVM 1962
Dr. Steve Mosier - DVM 1966
Dr. Derek Mosier - DVM 1978
Dr. Kelly Mosier - DVM 1982
Dr. Brad Fansher - DVM 1983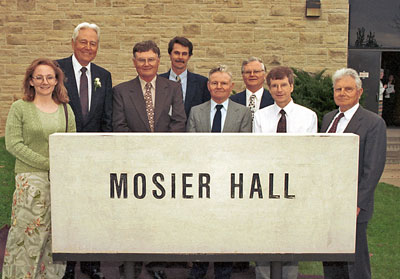 The Mosier family veterinarians at the dedication of Mosier Hall named for Dr. Jake Mosier in 1999: (left to right) Drs. Melissa Schilling, Jake, Larry, Kelly, Donald, Steve, Derek and Ross Mosier. (not pictured) Dr. Brad Fansher.
The Mosier family has been awarded a 2005 Alumni Recognition Award from the Kansas State University College of Veterinary Medicine. The award is in acknowledgment for this family's time and effort devoted to advancing veterinary medicine and for being exemplary role models for future alumni.
The award was presented during the Kansas Veterinary Medical Association's annual awards gala brunch on Jan. 16, at the Hilton Hotel in Wichita, Kansas.
Dr. Jacob "Jake" Mosier was the first of nine veterinarians in the Mosier family who obtained their Doctor of Veterinary Medicine degrees from K-State. After receiving his DVM in 1945, Dr. Mosier became an instructor at the College of Veterinary Medicine where he remained for most of his career as a professor of surgery and medicine and director of the Teaching Hospital. He served as the Surgery and Medicine department head until 1981, and in 1999 was honored when the Veterinary Clinical Sciences building was dedicated in his name. Dr. Jake Mosier passed away in April, 2001.
"He really enjoyed the veterinary profession," Dr. Mosier's wife Betty recalled. "He literally devoted his life to it."
Four of his brothers have devoted their lives to the veterinary profession as well.
After graduating from K-State in 1952, brother Dr. Ross Mosier established a private practice in Spalding, Neb., where he remained until retiring in 2001. Dr. Larry Mosier obtained his DVM in 1960 and ran a large animal practice in Sargent, Neb. until his retirement last year.
Dr. Donald Mosier went into the U.S. Army Vet Corps after graduating in 1962. In 1965 he established a practice in Spalding, Neb., later moving to Cedar Rapids in 1969 where he continues to work.
Dr. Steve Mosier, the youngest brother, received his DVM in 1966 and opened a practice in Hays in 1970 where he continues to treat small and large animals. He says there was never a question as to what career he should pursue.
"By the time I got there, I had four brothers who were in veterinary medicine, and I didn't think there was anything else a guy ought to do," Dr. Mosier said.
He feels the award is a tremendous tribute to his family, especially his parents, Decker and Lela Mosier. Betty Mosier agreed. "They instilled in the family the work ethic and the importance of a college education" she said.
A second generation of Mosier veterinarians is carrying on the family tradition. Dr. Kelly Mosier and Dr. Brad Fansher put their veterinary skills to use as ranchers, Dr. Mosier in Manhattan and Dr. Fansher in Garden City. Dr. Melissa Schilling received her DVM from Iowa State University in 1995. She is currently working for the United States Dept. of Agriculture as a staff veterinarian for the Center for Veterinary Biologics in Ames, Iowa.
Dr. Derek Mosier is the only family member still directly associated with K-State. After getting his DVM at K-State in 1978, Derek went to graduate school at Oklahoma State University, and later went into private practice. In 1990 he returned to the K-State College of Veterinary Medicine as an instructor of pathology, where he also researches respiratory disease in cattle.
"Even when I left veterinary school, I knew I would want to return (to K-State) at some point in time to do graduate work to get into an academic setting," Dr. Mosier said.