Dr. Norman Meriweather - DVM 1955
Western Veterinary Conference 2012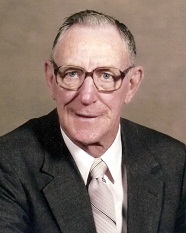 The late Dr. Norman Meriweather, Miller, S.D., is 2012 recipient of the Alumni Recognition Award at the Western Veterinary Conference in Las Vegas on Feb. 20.

In 1943, Dr. Meriweather earned his bachelor's degree in geology from K-State. After graduation, he went on to serve in the U.S. Army during World War II from 1943 to 1946. Dr. Meriweather was discharged from the military as a captain. He worked as a game warden in South Dakota for four years. In 1950, Dr. Meriweather returned to K-State to attend veterinary college and earned his DVM in 1955. After graduation, he was a business partner with his brother Dr. Herb Meriweather of Meriweather Vet Supply in Miller from 1955 to 1978.

"This award helps keep alive the memory of a special alumnus," said Dean Richardson. "His career reflects a lifelong dedication to both animal health and agriculture. We are honored to recognize and remember Dr. Norman Meriweather for his achievements. His positive impact has been felt throughout South Dakota and will continue to live on through future generations"

"Our dad, 'Dr. Norm' cried the day he got the call to say he was receiving this award," said his daughter, Marcia Potts. "He told me it was an honor to get this but probably didn't deserve it as he was just doing his job. Dad loved his profession and respected every farmer/rancher he serviced. He has done great things for not only his profession, but for his community, family and friends. Dad was always proud to be a K-State alumni, loved his Wildcats and reunions with his K-State classmates were always a highlight that he looked forward to."

Dr. Meriweather retired in 1983. He had many leadership responsibilities throughout his career. Dr. Meriweather served as the president of Meriweather Vet Supply for more than 15 years, president of the South Dakota Veterinary Association in 1969, South Dakota State University Agriculture Advisory Committee president in 1970 and received the Veterinarian of the Year award in 1983.
Dr. Meriweather passed away on June 17, 2011. He is survived by his wife Margueritte "Margo" of 68 years, and their three daughters: Connie, Helen Kay and Marcia; and seven grandchildren and 10 great grandchildren.