Dr. Phil D. Lukert - DVM 1960
North American Veterinary Conference 2010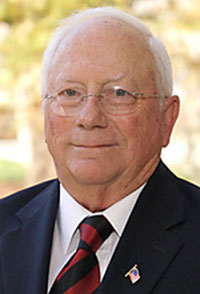 Dr. Phil D. Lukert, Colbert, Ga., was the 2010 Alumni Recognition Award recipient for the North American Veterinary Conference in Orlando, Fla., on Jan. 17, 2010. Dean Ralph Richardson presented the award on behalf of the K-State Veterinary Medical Alumni Association in recognition for time and effort devoted to advancing veterinary medicine and for being an exemplary role model for future alumni in a professional and community setting.
"It's quite an honor to be recognized by my alma mater," Dr. Lukert said. "I originally wanted to be a large animal practitioner, but opportunities later in life led me into poultry medicine, research and teaching at the University of Georgia. My broad veterinary education at K-State prepared me to seize these opportunities, so I'm truly grateful to receive this award."
"Dr. Lukert is considered a legend in the development of Infectious Bursal Disease vaccines," Dean Richardson said. "His work has had global implications on the control of avian diseases and viruses. Dr. Lukert has been an instrumental member of both national and international committees and associations, and he has had a lengthy career as a professor at the University of Georgia. Through this award, we salute all that he has accomplished."
Dr. Lukert, a native of Topeka, Kan., earned a bachelor's degree in animal husbandry at K-State in 1953. He worked two years with the American Hereford Association and then got called up for military action during the Korean War. After two years of service, he returned to K-State on the GI Bill and earned his Doctor of Veterinary Medicine degree in 1960 and a master's degree in 1961.
Dr. Lukert worked six years as a research veterinarian in the Department of Agriculture's National Animal Disease Laboratory in Ames, Iowa. In 1967, he completed his Ph.D. at Iowa State University.
"While I was at the disease laboratory, I started working on a major diseases issue in pigs and took over the infectious bronchitis project," Dr. Lukert said. "While I enjoyed working there, it was always a dream of mine to teach at a university. One of my professors at Iowa State, Dr. John Gratzek, was hired at the University of Georgia to head up the microbiology department. He recruited me to Georgia and I've never left. My entire research life changed to poultry."
Dr. Lukert was on the faculty at the University of Georgia from 1967 to 2001. He won the Norden Teaching Award in 1987. He was a major professor for 22 master's degree students and 18 Ph.D. students. Dr. Lukert helped secure $950,000 in extramural funding and $170,000 in intramural funding for research while at the University of Georgia.
Dr. Lukert has been chairman of the Registration and Housing Committee of the World Veterinary Poultry Congress. He was a member of the committees of the family reoviridae for both the World Health Organization and International Committee for Virus Taxonomy. Dr. Lukert was committee chairman of the international committee for Virus Taxonomy for Establishing the New Family of Circoviruses.
Dr. Lukert is a member of the American Veterinary Medical Association, American Association for Avian Pathologists, Conference for Research Workers in Animals Diseases, American Society for Microbiology, American Association for the Advancement of Science, Georgia Academy of Science, Society for Experimental Biology and Medicine, World Veterinary Poultry Association, American Society for Virology and American College of Veterinary Microbiology.
Dr. Lukert and his wife, Cherie (Madden), have four children: Phil Jr., Linn, Elizabeth and Patricia.