Dr. George Looby - DVM 1958
Veterinary Meeting & Expo 2018 (formerly NAVC)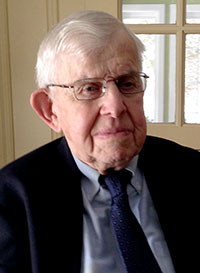 Dr. George Looby, Woodstock, Connecticut, was selected to receive a 2018 Alumni Recognition Award from the Kansas State University College of Veterinary Medicine at the Veterinary Meeting and Expo in Orlando, Florida, on Feb. 6, 2018.
Dr. Looby received a bachelor's degree in 1950 at the University of Connecticut. After serving in the U.S. Army during the Korean conflict, he enrolled as a pre-veterinary student at Kansas State University where he graduated with his DVM degree in 1958. Dr. Looby spent 13 years on the clinical faculty at the Cummings School of Veterinary Medicine at Tufts University in Grafton, Massachusetts, where he is now an assistant professor emeritus.
Immediately after retirement, Dr. Looby assumed a part-time role on the faculty serving as a director of the school's farm program to develop it as a better resource for student teaching. He served in that role until 2002. In addition to his retirement role at Tufts, Dr. Looby served part-time and in-relief as a clinician in several local practices over the course of the next several years. He retired from all practice activities in 2008 after 50 years of service overall. He was named to the Tuft's Faculty Hall of Fame in 2012.
"Upon receiving the telephone call that I had been chosen to receive an alumni recognition award, I was both amazed and delighted," Dr. Looby said. "My small contribution to the profession pales in comparison to so many others, but that which I was able to do, I did with a feeling of pride and accomplishment. I hope that those students with whom I interacted at Tufts were able to put into their professional lives some of the guidelines that I consider so important: dedication and pride to serve in such an outstanding profession."
Prior to his tenure at Tufts, Dr. Looby served as a practitioner at two mixed-animal practices in Connecticut before establishing the Woodstock Veterinary Clinic in 1971, a mixed-animal practice. In 1981, Tufts University purchased the large-animal portion of Dr. Looby's practice for its ambulatory practice bringing both him and George Saperstein, DVM (a 1978 Kansas State University alumnus and professor emeritus at Tufts) onto the veterinary school's faculty.
In 1984, Dr. Looby was appointed to direct the Foster Hospital for Small Animals and the Hospital for Large Animals, strengthening the two hospital's relationships with referring veterinarians. In 1987 he resumed his clinical and teaching duties at the ambulatory service until his retirement in 1994.
During his career, Dr. Looby served for seven years as the Connecticut delegate to the American Veterinary Medical Association, the president of the New England Veterinary Medical Association, and president of the Connecticut Veterinary Medical Association. He served as a charter member of the Member Services Committee. An outspoken advocate of preserving agricultural history, Dr. Looby taught his students to respect rural families and understand their challenges while working to improve animal welfare.
"We are delighted to have this opportunity to recognize an alumnus who has served the profession in a variety of capacities," said Dr. Bonnie Rush, interim dean of the College of Veterinary Medicine. "Dr. Looby had a strong influence in guiding aspiring veterinarians as an educator and a clinician at Tufts University. We are proud of his service and leadership to organized veterinary medicine through the American Veterinary Medical Association and local veterinary associations."
In retirement, Dr. Looby has worked as a correspondent for a publication directed to agriculture in the northeast. During his career, he served as president of the Woodstock Lions Club, as chair of the museum committee for the Woodstock Agricultural Society, a member of the Quasset School advisory committee, the Inland-Wetlands Agency and revising author of "Backyard Livestock: Raising Good, Natural Food for Your Family" published by Countryman Press.
Dr. Looby and his wife, Carolyn, have three adult children: Todd, Timothy and Jennifer, all of whom he said, "made it to maturity watching a father bolting down an evening meal to drive to the aid of some creature down but not quite out."