Dr. Langhofer - DVM 1975
Central Veterinary Conference 2009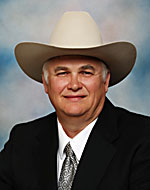 Martin C. Langhofer, DVM, South Bend, Ind., was selected to receive a 2009 Alumni Recognition Award from the Kansas State University College of Veterinary Medicine and its Veterinary Medical Alumni Association at the Central Veterinary Conference in Kansas City, Mo., on Aug. 29, 2009.
Originally from Wichita, Kan., Dr. Langhofer earned a bachelor's degree in 1973 and a DVM in 1975, both from K-State. After graduation, he worked in an equine practice in Wichita for two years. In 1977 he moved to South Bend to work with Dr. Robert Beebe, at the Gilmer Park Animal Clinic. In 1979, he and his wife, Lavilla, opened up the Western Veterinary Clinic, which today is a busy four man practice giving veterinary services to small animals, horses and some exotic species.
"I'm truly honored to be recognized by my alma mater and my classmates who have nominated me." Dr. Langhofer said. "I have tried to be committed to my profession, to students, my family and to the animals I treat. To bring knowledge, comfort and care through the occupation of veterinary medicine has been the greatest joy of my life."
Dr. Ralph Richardson, dean of the College of Veterinary Medicine, said, "Dr. Langhofer has sought to touch the lives of many people who are outside of his practice and his community. His efforts as a humanitarian, mentor and leader in veterinary medicine is a tremendous inspiration. As K-Staters, we take this opportunity to celebrate his remarkable career and achievements."
Dr. Langhofer and his wife have six children. During the mentoring years of his family, he was active as a 4-H Horse Judging Team Leader. Dr. Langhofer also was active in his church as a Sunday school teacher. For 25 years, he helped coordinate the veterinary science 4-H program in St. Joseph County. This project draws 60-100 junior and senior high school students for the purpose of educating young people about the veterinary occupation.
Known to his friends and clients as "Dr. Marty," he has served his local veterinary association as a board member as well as president of the Michiana Veterinary Medical Association. Dr. Langhofer served as the area coordinator of the Northern Indiana Large Animal Treat and Triage for the State Animal Veterinary Emergency Committee. He started an equine lecture series for veterinarians within a 50 mile radius of South Bend and neighboring communities in Michigan and Indiana.
Dr. Langhofer has been a guest speaker at various local animal organizations. He also has given lectures for the AVMA, International Emergency and Critical Care Society, and American Association of Equine Practitioners. Dr. Langhofer has conducted educational workshops in many universities in the US and in foreign countries on Equine Medicine and Surgery, Equine Dentistry, Small Animal Laparoscopic Surgery, and Exotic Animals in Private Practice. He helped conduct Hoosier Horse Fair Demonstrations, as well as presentations on Equine Dentistry.
Presently Dr. Langhofer sits on the board of the St. Joseph County Health Pilot Program to help mentor high school students interested in the medical profession. He is the chairman of the Indiana Veterinary Medical Association Christian Veterinary Missions Committee.
Since 1994, Dr. Langhofer has raised funds for the shipment of human and veterinary medical supplies to medical doctors and veterinarians in countries including Haiti, Ethiopia, Nigeria, Mongolia, Hungary, Romania, Belarus, and others. He has also hosted many interns in practice, both U.S. and foreign, the latter in connection with Purdue University's Foreign Veterinary Program. At present, he is the Eastern European Director of Christian Veterinary Missions.
In addition to previously mentioned association leadership roles, Dr. Langhofer is a member of the American Veterinary Medical Association, the Michiana Veterinary Medical Association, Kansas Veterinary Medical Association, American Association of Equine Practitioners, American Veterinary Dental Society, Indiana Veterinary Medical Association, International Equine Dental Association, and the Indiana Veterinary Equine Association.
Dr. Langhofer has received several awards for his professional involvement in veterinary medicine. He said the two most humbling awards he has received are the Indiana 2001 Veterinarian of the Year Award and 2009 K-State Veterinary Alumni Recognition Award.
"I am overwhelmed to be receiving two professional distinction awards in my life," Dr. Langhofer said. "I never became involved in veterinary medicine and the lives of other people to receive awards. I became involved to make a difference and because involvement is the right thing to do."