Knappenberger Family
Kansas State University College of Veterinary Medicine Honors Three Generations of Knappenberger Family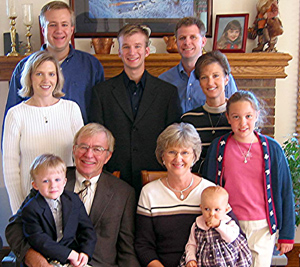 Left to Right, Standing: Tricia, Dr. Todd, Dr. Scott, Rex, Shelly, and Taylor (daughter of Rex). Seated: Bret (son of Dr. Todd), Dr. Tom, Shirley, and Emma (daughter of Dr. Todd).
Kansas State University and veterinary practice are both long-standing traditions for the Knappenberger family of Olathe, Kansas. With nearly 70 years of experience in the profession, the Knappenberger family has demonstrated exemplary servitude to the veterinary world and the community that Kansas State University can truly be proud of. The Knappenberger family will be honored with the 2004 Alumni Recognition Award sponsored by the K-State College of Veterinary Medicine and Veterinary Medical Alumni Association, at a brunch during the Kansas Veterinary Medical Association (KVMA) annual conference on January 11, at the Capitol Plaza in Topeka, Kansas.
Joseph Knappenberger, a native of Penolosa, Kansas, graduated from Kansas State University College of Veterinary Medicine in 1935. While attending Kansas State, Joseph was an extremely active student serving as a member of the varsity track squad, president of the student body, Blue Key, and president of Alpha Gamma Rho fraternity. Kansas State also led Joseph to his future wife, Opal Schlickau, a physical education major from Haven, Kansas. 1935 was an exciting year for Knappenberger, as he graduated with a degree in Veterinary Medicine in August and made Opal his wife the following December.
Soon after graduating, Joseph relocated to Ohio where he joined a general practice. After only six months in Ohio, Dr. Knappenberger returned to Manhattan to serve on the faculty at KSU CVM, where he would remain for one year before he would again relocate to Hutchinson, Kansas. Knappenberger left Manhattan for Hutchinson because he saw the opportunity to capitalize on a neglected area, as there was no practicing veterinarian in Hutchinson at that time. The years spent in Hutchinson were extremely busy ones for Dr. Knappenberger and his practice, serving not only Hutchinson but the surrounding areas of Haven, McPherson, Buhler and Pretty Prairie. Joseph's son Tom recalls his father making house calls around the clock to treat many of the farm animals that made up the large animal part of his practice. His endless dedication to his practice and patients gave Joseph the opportunity to befriend many of the farmers in the area, and made him a loved and revered man of Western Central Kansas.
In 1948 Joseph accepted a position with Ash Lockhart, a veterinary pharmaceuticals company, which would move the family to Olathe. Joseph initially served as the Vice President of Bioproduction until he was promoted to President in 1955, where he remained until retirement in 1968. Joseph and Opal raised four children, all of which would go on to attend and graduate from K-State. Their Children are Dr. Tom E. Knappenberger (KSU DVM 1962), Mrs. Janice Kay Dunn (KSU 1964 Elementary Education), Mrs. Mary Jane Janssen (KSU 1970 Speech), and Don Knappenberger (KSU 1972 Pre-law).
While growing up on the farm in Hutchinson, Joe's oldest son Tom recalls always being surrounded by animals and veterinary medicine. The many days he spent at his father's clinic provided a perfect stepping stone for entering the Veterinary Medicine program at Kansas State. After Tom graduated in 1962, he entered the United States Army with the Veterinary Corps to do a two year tour. Upon returning, Tom set-up the Knappenberger Veterinary Clinic in Olathe. Over the years, the clinic has worn many faces, changing and growing with the community. As Olathe has become more and more urban, the clinic has progressed from a dairy practice, to general, to equine, and now focuses on small animals. Tom was joined in the practice by his son Todd in 1999, who is also a KSU DVM graduate.
Today, Tom and Todd run the practice with the help of both their wives, Shirley and Tricia, who serve as office managers, as well as Todd's brother Rex and his wife Shelly, who provide all the grooming and boarding services. Patients of The Knappenberger Veterinary Clinic almost always deal with a Knappenberger, making their business truly a family affair.
Dr. Todd Knappenberger has a great sense of appreciation for his father Tom, and commented that the last five years since graduating and joining his father have been "absolutely fabulous," and he "wouldn't trade it for the world!" Tom and Todd have a great sense of give-and-take within their practice, using each other as resources and second opinions. Through education and 38 years of practice, Tom has developed outstanding patient skills, while Todd helps keep his dad up-to-date with new technology. Perhaps even more important than the professional guidance that Tom has been able to lend Todd, is the example he and his wife Shirley have provided for all four of their children: Dr. Linda Meyer (KU Grad), Rex Harrison (KSU Animal Science 1986), Dr. Todd Knappenberger (1999 KSU DVM) and Dr. Scott Knappenberger (KSU Microbiology 1997 and KU Med 2001). Tom and Shirley will celebrate another exciting achievement this year with their 35th wedding anniversary.
Just as the Knappenberger family has an outstanding reputation as professionals, all three generations have been exemplary community leaders. Joe served one year as the president of KVMA, was a member of the Johnson County Fair Board, a board member for Kansas Farm Bureau, and was president of the church congregation at Salem Lutheran Church in Lenexa, Kansas. Joe also held the distinct honor of serving as the president of the American Veterinary Medical Association for the 1968-69 year. Tom is a Rotarian, has served on the Extension Board for Johnson County, has been a past president and board member for the Johnson County Fair Board, was a board member for Farm Bureau, and a Church Council member for St. Mark's. Tom also established the 4-H Veterinary Science Youth Program for Johnson County, which is carried on today by his son Todd. In addition to the 4-H program, Todd serves on the Extension Board for the county, and is actively involved in his church, St. Mark's.
Tom and Todd may carry on the family tradition today, but they were not the first to follow in their father's footsteps. Joe's younger brother Dr. Jack Knappenberger graduated from K-State with his DVM in 1939. Later that year, he entered the United States Army Veterinary Corps, being stationed at Fort Robinson, Nebraska. His troop was sent on maneuvers in 1940 following which he was sent to El Paso, Texas where he was attached to the First Cavalry Division. After two years there, feeling he had seen everything that could happen to a horse, he asked to be transferred to the Army Air Corps, and as far as he knew, became the only flying horse doctor. Following the war he rejoined his brother Joe in their combined large and small animal practice in Hutchinson.
In 1948 he began his career with the Norden Laboratories of Lincoln, Nebraska, as a Field Representative, serving the Ohio Territory. He was quickly promoted and brought to the home office in Lincoln as Assistant Sales Manager in 1953 and Sales Manager in 1955. In 1958, ten years after joining the firm, Jack was made a member of the Board of Directors. Next, he became Director of Marketing in 1961 and Vice President of the Marketing Division in 1966. Dr. Jack Knappenberger became President of Norden Laboratories on May 9, 1969 and Chairman of the Board a year later, where he remained until his death in 1973.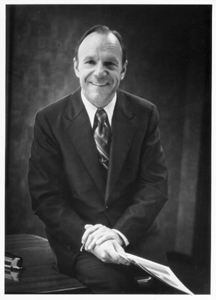 Jack was also an active member in both professional and civic activities, including the American Veterinary Medical Association, the Nebraska Veterinary Medical Association, the American Association of Equine Practitioners, the Board of Directors of the Animal Health Institute, the American Veterinary Exhibitors Association, and the Nebraska Association of Commerce and Industry. He was an Elder at the Eastridge Presbyterian Church in Lincoln, and served on the Board of Directors of the Lincoln YMCA, the Board of Trustees of Hastings College, and was a Director of the Federal Home Loan Bank.
Jack is survived today by his wife Elisabeth Chickering Knappenberger Elm, a K-Stater, graduating in 1940 with a B.S. degree. Their children Joe Knappenberger, Peg Rupprecht, and Katherine Eldridge are all graduates of Hastings College, Hastings Nebraska. Son Joe, following graduation, taught a year in Ord, Nebraska before being sent to Japan where for six years he taught military dependents. After earning a degree in Asian studies he returned to the Far East with Smith Kline Beecham in the animal health division, and was later in sales in the United States, for a total of 22 years. He is presently Associate Director of Product Development with Merial Limited in Athens, Georgia, where he has been for ten years. Jack's granddaughter, Elise Knappenberger Kish DVM, earned her degree at the University of Georgia. She and her husband, Dr. David Kish, live and work in Athens, Georgia.
Veterinary medicine in the Knappenberger family extends even further than Joe and Jack, Tom, Todd, and Elise. Joe and Jack's cousin Dr. George Knappenberger, a 1950 graduate of the University of Missouri, practiced in Haven, Kansas and developed the surgery chute that allows the cattle to be rolled over on their side. Joe's son-in-law, Dr. Justin Janssen, of Sheridan, Indiana, graduated from K-State with his DVM in 1972, and received the Alumni Recognition Award himself in 2001.
For the last 68 years, the Knappenbergers have demonstrated exemplary servitude to the veterinary profession that serves as an example to future alumni of the Kansas State University College of Veterinary Medicine. Tom and Todd Knappenberger have progressed with the changes and challenges of the twenty-first century while preserving the values and integrity that were established by Joseph and Jack so long ago.
| | |
| --- | --- |
| | |
| Joe Knappenberger when President of the AVMA | Joe Knappenberger in his 1935 K-State Track uniform. He even held a short lived world record in hurdles |
| | |
| | |
| Joe and Jack helping their father Ross Knappenberger on the family farm. Joe is walking behind the plow and walking behind the plow and Jack is riding in the coal bucket attached to the plow. They learned the work ethic early on! | Youngsters Joe and Jack Knappenberger with orphaned pigs. |
| | |
| Joe, Jack and Kay Knappenberger's family reunion, taken during the summer of 2003. | Jack Knappenberger riding a horse during his military enlistment. |