Dr. Linda Kassebaum Johnson - DVM 1983
American Veterinary Medical Association 2016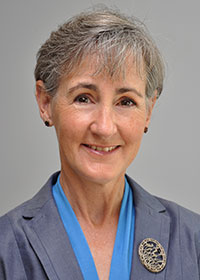 Dr. Linda Kassebaum Johnson, Denver, Colorado, was selected by the Kansas State University College of Veterinary Medicine for its 2016 Alumni Recognition Award, which was presented during the annual convention of the American Veterinary Medical Association (AVMA) in San Antonio, Texas, on August 8, 2016. The award is given to veterinarians whose careers have served as exemplary role models for future alumni in a professional and community setting.
Dr. Johnson earned a bachelor's degree in 1979, a Doctor of Veterinary Medicine (DVM) degree in 1983, and a master's degree in pathology in 1987, all from Kansas State University. She completed a postdoctoral fellowship and a Master of Public Health degree in 1990 at Johns Hopkins University in Baltimore, Maryland. She is board certified by the American College of Veterinary Pathologists in anatomic pathology and has a specialty in comparative pathology and animal models of human disease. She is currently a professor in the pathology department in the School of Medicine at the Anschutz Medical Campus of the University of Colorado.
"My happiest memories and most significant educational influences occurred at Kansas State University," Dr. Johnson said. "I'm overwhelmed and deeply humbled to receive this honor from my peers. The College of Veterinary Medicine has always attracted and graduated the most talented veterinarians in the country. I have always been indebted and proud of my KSU roots."
"Dr. Johnson has had an amazingly diverse career, having worked in England and Australia, alongside colleagues in human medicine as well as veterinary medicine," said Dr. Tammy Beckham, dean of the College of Veterinary Medicine. "We place great emphasis on international experiences, so we feel Dr. Johnson serves as a valuable role model for our students and future veterinarians. We also value her contributions to the profession as a researcher and educator, so we're very proud to recognize her with this well-deserved award."
Prior to joining the University of Colorado, Dr. Johnson was an associate professor and head of the Anatomy and Pathology Discipline at the School of Veterinary and Biomedical Sciences at James Cook University in Queensland, Australia from 2011 to 2014. She was an associate research professor of comparative pathology at the Tri-Institution's Laboratory of Comparative Pathology, Memorial Sloan-Kettering, in Manhattan, N.Y., from 2008 to 2011. Her earlier career included positions with the Yale University College of Medicine; the Veterinary Laboratories Agency of the UK government in Weybridge, England; Armed Forces Institute of Pathology, Washington, D.C.; and the Albert Einstein College of Medicine in the Bronx, N.Y.
Dr. Johnson is a member of the American College of Veterinary Pathologists, American Veterinary Medical Association, Kansas Veterinary Medical Association, and the CL Davis/SW Thompson DVM Foundation. She has served the latter as a national advisory board member. For the American College of Veterinary Pathologists, she has served on its board of governors and has been secretary and president. Dr. Johnson has co-authored over 50 peer-reviewed scientific articles and has served on the editorial board for the journals: Veterinary Pathology, Lab Animal Science, and the Journal of Toxicologic Pathology.
Dr. Johnson has three children: Kristian, Margot and Elsa.