Dr. Donald E. Jackson - DVM 1951
Kansas Veterinary Medical Association 2007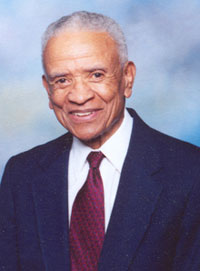 Dr. Donald E. Jackson, Wichita, Kan., was honored with a 2007 Alumni Recognition Award by the Kansas State University College of Veterinary Medicine and its Veterinary Medical Alumni Association. The award is for Dr. Jackson's time and effort devoted to advancing veterinary medicine and being an exemplary role model. He received the award at the Kansas Veterinary Medical Association's (KVMA) Gala Brunch on Jan. 21, 2007 in Wichita.
Growing up as a black male in segregated Kansas City, Dr. Jackson made it his goal to become a credible black professional. At the time, most black professionals were either teachers or ministers, neither of which Dr. Jackson was interested in. His aunt suggested he find a profession where he could work for himself rather than working for someone else. He had met a few black veterinarians in Kansas City, so he decided to pursue a veterinary education and open his own practice.
After being trained as a B-25 bomber pilot at Tuskegee University, Dr. Jackson attended Kansas State University where he received his doctor of veterinary medicine degree in 1951.
After graduating, Dr. Jackson was employed at Dr. Bronson's Dog and Cat Hospital in Wichita for six years. In 1957, Dr. Jackson was able to achieve his goal of running his own business when he opened his All Pets Clinic in Wichita. He treated small animals for more than 40 years, until retiring in 2001.
Dr. Jackson says his time at K-State gave him the foundation needed to become a veterinary professional. He finds great personal satisfaction in doing what he was trained to do and says that K-State helped him on his "quest for excellence." Veterinary medicine became a labor of love for Dr. Jackson.
"The thing that I especially enjoyed was being able to see an animal come in with a distraught owner and to take the animal's history, make a diagnosis and see the end results of my labor," he said.
In addition to his professional achievements, Dr. Jackson has also been actively involved in the Wichita community. He has volunteered countless hours with the Boy Scouts as a Scout Master. He is currently a unit commissioner for the Boy Scouts, judging Eagle Scout applicants. Dr. Jackson has also been active in the Oz Bicycle Club, Kansas Sentencing Commission, University United Methodist Church and is currently president of the Foreign Relations Committee in Wichita.
Dr. Jackson served as president of the Sedgwick County Veterinary Medical Association, as well as serving many years on various committees for KVMA. His dedication earned him a KVMA Lifetime Service Award in 2001.
Dr. Jackson truly enjoys the process of learning, and he spends free time taking classes at Wichita State University. He especially likes math classes, but has taken classes in meteorology, history, geography, economics and astronomy. His current goal is to become "a credible calculus student." He also tutors students in Algebra I in the Wichita public school system.
Dr. Jackson applies the problem-solving philosophies he learned in veterinary medicine to all areas of his life. "The veterinary process is applicable both in the treatment of animals and in solving life's problems, and that's the way I've lived my life."