Dr. Brad Jackman - DVM 1987
American Association of Equine Practitioners 2015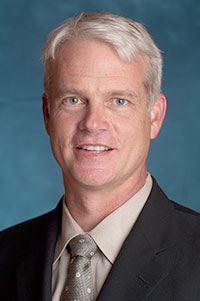 Dr. Brad Jackman, Oakdale, California, was selected to receive a 2015 Alumni Recognition Award at the American Association of Equine Practitioners (AAEP) annual conference in Las Vegas, Nevada, on Dec. 7, 2015.
Dr. Jackman was born in Lawrence, Kansas. The son of a veterinarian, Dr. Jackman has been involved with horses his entire life. He graduated from Kansas State University in 1987 with a Doctorate of Veterinary Medicine. After graduation, he completed a one-year internship and three-year equine surgical residency at the University of Georgia. After his residency, he served as an instructor of surgery at both the Western College of Veterinary Medicine at the University of Saskatchewan and at Washington State University, where he became board certified in surgery during that time. He joined Pioneer Equine Hospital near Oakdale in 1995 and became a partner in the practice in 1996. In 2007, Dr. Jackman became the sole owner and CEO of Pioneer Equine Hospital
"KSU gave me the foundation and background to be successful and strive to promote the profession in an advanced medical and ethical manner," Dr. Jackman said. "I have always been proud of my educational training and Kansas State University. To be recognized by this university means a great deal to me."
"Dr. Jackman has been an outstanding leader with the AAEP as well as a committed practitioner and mentor," said Dr. Tammy Beckham, dean of the College of Veterinary Medicine. "He is well-respected within the equine side of veterinary practice and he is also a highly accomplished surgeon. We are thrilled to recognize him among his peers and industry colleagues at the annual AAEP convention."
Dr. Jackman has been a longtime member of the AAEP and has served on its Board of Directors, Educational Programs Committee and Welfare and Public Policy Advisory Council (as co-chair for the 2015-2017 term). He is also a member of the California Veterinary Medical Association, American Veterinary Medical Association and American College of Veterinary Surgeons. He has presented information on lameness evaluation, imaging and business management at numerous AAEP meetings.
Dr. Jackman was selected as a member of the AAEP's first Equine Veterinary Management Group and has a special interest in the economic health of the profession. As a member of the board, Dr. Jackman promotes the value of business education for equine veterinarians and veterinary students. He works to uphold the AAEP's position as the premier source of continuing education for practitioners. Dr. Jackman considers his mentoring of numerous students and externs throughout his career as well as his sharing of knowledge and experiences at educational meetings his two greatest contributions to the profession.
Dr. Jackman received the University of Georgia's Outstanding House Officer Award and its Outstanding Teaching Assistant Award, both in 1991. He was named Clinician of the Year by the University of Saskatchewan in 1993.
When he finds time in his schedule, he enjoys team roping with his Quarter horses and spending time with his wife Dr. Karen Jackman, who is also an equine veterinarian. He has recently become a father of two daughters: Shelby born in 2012 and Thandi born Oct. 1, 2015.