Dr. Overton E. Hundley - DVM 1952
Nebraska Veterinary Medical Association Conference 2009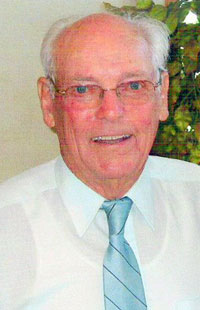 The late Dr. Overton E. "Doc" Hundley was honored by the Kansas State University Veterinary Medical Alumni Association at the winter meeting of the Nebraska Veterinary Medical Association. Dean Ralph Richardson led the tribute to Dr. Hundley on Jan. 23, 2009.
Dr. Hundley was born in Clay Center, Kan., and grew up in Lawrence, Kan., where he graduated from Lawrence High School with the class of 1942. He then went in to the United States Marine Corps from 1943 to 1947. He graduated from K-State in 1952, with his Doctor of Veterinary Medicine. In August 1952, Dr. Hundley moved to Lexington, Neb., where he began his practice.
"We choose this time to celebrate the life and career of Dr. Hundley," said Dr. Ralph Richardson, dean of the College of Veterinary Medicine. "He had a very long career and was extremely dedicated to the profession. As a successful alumnus, his career represents ideals that are important in our educational program."
Dr. Hundley was a member of the First Presbyterian Church, serving as elder for three terms; a member of the Lexington Chamber of Commerce; president of Johnson Lake Development, Inc., board member of the Heartland Military Museum, past board member of Farmer's State Bank, Lexington Tennis Association, former president of the Greater Lexington Corporation, former president of Lakeside Country Club, member and past president of the Nebraska Veterinary Medical Association, and District No. 6 Nebraska Veterinary Medical Association, present member and former worshipful master of Masonic Thistle Lodge No. 61, AF & AM, member of Tri-County Shrine Club, charter member of the Lexington Toastmasters and a member of the local VFW Club.
Dr. Hundley's wife is Mildred and they have two children: Nancy and David. Dr. Hundley passed away Aug. 11, 2007.