Dr. Steven Hodes - DVM 1979
North American Veterinary Conference 2005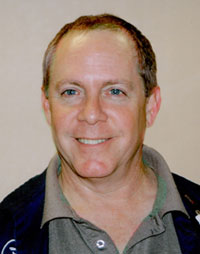 Dr. Steven Hodes was awarded a 2005 Alumni Recognition Award from the Kansas State University College of Veterinary Medicine. The award recognizes Hodes' time and effort devoted to advancing veterinary medicine, and for being an exemplary role model for future veterinarians.
The award was presented at a K-State alumni reception during the North American Veterinary Conference Jan. 9, 2005 at the Marriott Orlando World Center Hotel in Orlando, Fla.
Hodes earned his undergraduate degree in zoology from Ohio University in 1973. In 1979, Hodes obtained his DVM from K-State. A life-long interest in biology and animals made a career in veterinary medicine a logical progression for him.
In 1980, Hodes established the Hodes Veterinary Group and Mobile Veterinary Service in Mine Hill, NJ. "Ignorance is bliss, but it worked out exceedingly well," Hodes said of going into practice for himself. His practice has grown to employ five veterinarians and more than 20 staff members, making his one of the largest practices in northern New Jersey.
His involvement with his community includes providing care for the K-9 units with the Morris County Sheriff, the local jail and the County Park Police. Giving lectures to local hospitals and high schools, serving on the local Board of Education and the Rockaway Environmental Commission are also on Hodes' list of community contributions. His professional memberships extend to the American Veterinary Medical Association, Kansas Veterinary Medical Association and the New Jersey Veterinary Medical Association.
Hodes lives in Rockaway, New Jersey with wife Colleen, who is also a K-state graduate. They have three children. Brian is attending K-State, Tim is in college in Michigan and Alexa is in high school. Hodes enjoys spending spare time traveling to visit his sons and attending K-State football games.
"It's a phenomenal way to spend your life," Hodes said of veterinary medicine.
"My day to day activities are never the same. With 26 years of being a veterinarian, I wake up excited and challenged to go to work every day."