The Henrikson Family
Three Generations of Henrikson Veterinarians Honored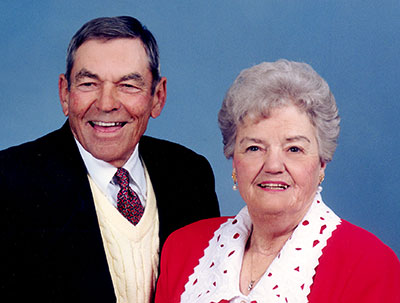 Five Henrikson family members, graduates of the Kansas State University's College of Veterinary Medicine, with the sixth set to graduate this year, were recognized by K-State's Veterinary Medical Alumni Association (VMAA). The VMAA awards were presented during the January 12th, 2003 Sunday brunch of the Kansas Veterinary Medical Association Annual Meeting at the Airport Hilton in Wichita. The awards are given in thanks and acknowledgement of time and effort devoted to advancing the profession of veterinary medicine and for being exemplary role models for future alumni of the College of Veterinary Medicine at Kansas State University.
The Henrikson family veterinary legacy stretches back to pre WWII Concordia, Kansas, where brothers Merle and Keith Henrikson grew up, destined to study veterinary medicine. Their sister, Ila Henrikson (KSU '50), sociology major, would later marry Charles Eppright, a veterinarian who practiced in Versailles, Missouri. Ila still lives there today. If the family wasn't producing veterinarians, they were marrying them.
In 1939, Dr. Merle L. Henrikson graduated from K-State with a DVM degree. It was a great year for the new graduate. After graduation, he moved to Emporia, Kansas where he met and married Ruth Jones and opened the Emporia Veterinary Hospital. The couple raised two sons and a daughter. "Our family has three generations of veterinarians: Merle and his brother Keith; our sons Duane and Warren; and our grandson Todd. Our granddaughter, Sarah, is currently a senior veterinary student at K-State," Ruth said proudly, and added, "Our daughter, Marilee, earned a bachelor's degree in education in 1968."
Merle interrupted his new career in Emporia to serve as a captain and then major in the U. S. Army Veterinary Corp from 1942-1946. After the war, he returned to Emporia and reopened the hospital. In 1951, Dr. I. J. Collinge (KSU '51) joined the practice. Dr. Bryan Barr joined the practice in 1964, son Duane (KSU '67) in 1969 and son Warren (KSU '72) in 1975.
During his long career, Dr. Merle Henrikson assumed an active position within his community and profession. He was active with the Emporia Boy Scouts and Rotary. He served as President of the Emporia Board of Education, was elected Mayor of Emporia, and served on the Methodist church board. The Kansas Veterinary Medical Association (KVMA) honored Dr. Henrikson as Veterinarian of the Year in 1957 and presented him with the association's Distinguished Service Award in 1971. He served as President of the KVMA in 1958 and as the American Veterinary Medical Association (AVMA) National Delegate for 12 years. He served as a member of the Kansas State Board of Veterinary Examiners, the Kansas State Board of Health and the KSU Alumni Board of Directors. The K-State College of Veterinary Medicine awarded Dr. Henrikson its Distinguished Service Award in 1973. His career in Emporia spanned 52 years with his retirement in1989.
After her husband's passing in 1990, Ruth established the Dr. Merle and Ruth M. Henrikson Scholarship to benefit K-State College of Veterinary Medicine seniors pursuing a career in a mixed practice. The scholarship, administered through the K-State Foundation, will honor the lives of both Ruth and her late husband.
Dr. Keith D. Henrikson followed his brother to K-State, graduating with a DVM degree in 1943 and like most of the College of Veterinary Medicine graduates that year, enlisted in the Army. First Lieutenant Henrikson spent nearly two years field duty between Camp Springs, now Dulles International, near Washington D.C. and the cross-town Langley Field. Upon returning home to Topeka, where his parents were then living, he met and married Dolores "Kelly" Baird from Hunter, Kansas in 1946. Kelly had finished her nurses training at St. Mary's in Manhattan and was working in Topeka at the time.
They moved east to Warrensburg, Missouri, where for four years, Dr. Henrikson worked for the B & B Veterinary Hospital. In 1952, they moved again to Bolivar, Missouri where they opened a solo mixed animal practice in rural Bolivar. At the time, Polk County Missouri was one of the leading dairy production counties in the nation.
Dr. Keith Henrikson worked his solo practice, putting countless miles on the pickup as well as being active in the profession and community. He was a member of the AVMA, Missouri Veterinary Medical Association (MVMA,) serving as past President of the Southwest District, as well as serving on numerous committees for the organization. He saw the community of Bolivar grow from 3,500 residents in 1952 to over 9,500 during his career. Dr. Henrikson was also an active member of the Bolivar Rotary Club.
"Doc", as the people in Bolivar know him, and Kelly Henrikson raised three daughters and a son in Bolivar, which is 30 miles south of Springfield, Missouri. Their oldest daughter Jan Henrikson finished a Master's Degree in history at Southwest Missouri State University (SMSU) in Springfield and now works in Lexington at the Lexington Civil War Battlefield Memorial. The second daughter, Gail Roberson, husband Richard, two sons and a daughter live in Kansas City. She works as a nurse practitioner, has a degree in nursing from the University of Missouri and a Master's Degree in nursing from the University of Kansas. Doc and Kelly's youngest daughter, Mary Susan Vollmer, has a Master's Degree from SMSU in education. She and her husband Dave live in Houston where she works for Northern Natural Gas. The youngest, Jim, has a degree in business from the University of Missouri and is Sr. Vice-President of Coral Energy, a subsidiary of Shell Oil Company. Jim, his wife Margaret, two daughters and a son live in Houston.
All of the children helped their father with his business during their school years. Gail remembers his dirty and well traveled pickup. "When as a girl in my teens, I was embarrassed to drive through the town square," remembers Gail. "But later when in college, I drove him in that truck to see clients when he had a bug, feeling too bad to drive—I realized then what a true dedication to his friends, clients and family he has."

The Merle Henrikson family, posing at Merle and Ruth's 50th anniversary several years ago. Front row (l to r): Amy Donelson, Dr. Merle Henrikson, Ruth Henrikson, Beth Henrikson. Middle row, Melody Donelson, Merilee Donelson, Alicia Henrikson, Jason Henrikson, Sarah Henrikson, Kristin Henrikson and Jerilynn Henrikson. Back row, Richard Donelson, Jon Henrikson, Gay Henrikson,
Dr. Warren Henrikson, Dr. Duane Henrikson and Dr. Todd Henrikson.
The Henriksons have enjoyed retirement in Bolivar. They remain active, keeping up with friendships, doting on their grandchildren and for Doc, playing golf every day he can. "The downside of retirement and golf is that for me, more playing time doesn't result in a better game," he lamented. His wife Kelly adds, "It has been great, but for me, retirement is still being 'Administrative Assistant' to a veterinarian."
Dr. Duane M. Henrikson (KSU '67) joined his father at the Emporia Veterinary Hospital in 1969, after finishing a two-year active duty assignment with the USAF as a captain in the School of Aerospace Medicine in San Antonio, Texas. Duane married Jerilynn Jones in 1966 and they raised four children: Kristin, Lisbeth, Todd, and Sarah. Kristin graduated from the University of Kansas with a degree in Spanish Education. Kristin and her husband Tim Mohn run Flint Hills Music in Emporia. Lisbeth graduated from Central College of Iowa and after serving a two-year commitment to the Peace Corps in Africa, completed a Master's in linguistics and is now at the University of Southern Illinois.
Duane, like his father, is active in his profession and community. He has served on numerous KVMA committees, the KVMA Board of Directors, and as President of the KVMA in 1998. He holds membership in the KVMA, AVMA, and the American Animal Hospital Association (AAHA). In 1975, Emporia Veterinary Hospital moved to its present location and became an accredited AAHA hospital and has been certified for over 27 years. Dr. Henrikson's activities in his community have included: Chairman of the Sojadi Boy Scouts of America; member of the Board of Deacons at Westminster Presbyterian Church; member and past president of the Emporia School Board; member and past president of the Emporia Noon Rotary Club; presently serving as the capital campaign chair for Emporia's Granada Theatre Restoration $2.6 million campaign. Dr. Henrikson has served on the KSU Alumni Board of Directors and served on several committees with K-State College of Veterinary Medicine.
Dr. G. Warren Henrikson (KSU '72) joined his father at the Emporia Veterinary Hospital in 1975 after spending two years as a captain in the USAF and receiving the USAF Medal of Commendation. Warren married Gay Miller in June of 1970 and raised three children. Jon graduated from McPherson College and is in retail management with McDonalds and lives in Emporia, Kansas. Jason played football at Tabor, graduated from Tabor College, and lives in McPherson, Kansas with his wife, Heather. Jason is employed by Abbott Laboratories. Alicia graduated from Baker University, lives in Topeka, Kansas and is a journalist with the Topeka Daily Capitol.
Dr. Warren, as he was fondly referred to by many of his clients, followed in the tradition of professional and community service. Dr. Henrikson was a charter member of the Emporia Friends of the Zoo and served as its first President for 4 years. This group was and is instrumental in providing Emporia and the surrounding area with an outstanding zoological collection of native animals exhibited in natural settings. He served as veterinarian for the zoo for many years. Dr. Henrikson has been a long time member of the Emporia and the McPherson Kiwanis clubs. He has been active in the First Methodist Churches in Emporia and McPherson and has served on various church boards. Dr. Warren's veterinary career was shortened by a medical reason and he retired from active practice in 1991. He has continued his support of the zoo, Kiwanis and his church. He presently lives in Emporia, Kansas and enjoys visits to the veterinary hospital several times a week.
Dr. Todd Henrikson (KSU '98) followed his father and grandfather into the field of veterinary medicine. After graduation, Todd spent a year internship at Rowley Memorial Veterinary Hospital in Springfield, Massachusetts. After successful completion of his internship, he spent two years in private small animal practice in Hartford, Connecticut. Todd is currently in a three year radiology residency program at the K-State Veterinary Health Center in Manhattan, Kansas. He is a member of the AVMA and the American College of Veterinary Radiology (ACVR).
Sarah Henrikson, the youngest in the family, will be the latest addition to the veterinary medicine legacy of the Henrikson family. Sarah is currently a senior in the College of Veterinary Medicine at K-State. During her time at K-State she has developed an interest in equine medicine and under the supervision of Dr. Bonnie Rush completed a NIH respiratory research grant and the results were published in the AVMA Journal. She is planning to complete an equine/large animal internship after graduation.
The Kansas State College of Veterinary Medicine is proud to have such outstanding alumni represent our institution and the veterinary profession. Clients, friends, neighbors and the profession of veterinary medicine cannot be better served than by families like the Henrikson family.