Dr. Jay Hedrick - DVM 1972
Central Veterinary Conference 2014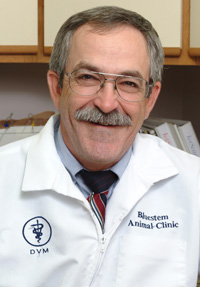 Dr. Jay Hedrick, El Dorado, Kansas, was the recipient of the 2014 Alumni Recognition Award presented during the annual Central Veterinary Conference held in Kansas City, Missouri, on Aug. 23, 2014. The award is given to veterinarians whose careers have served as exemplary role models for future alumni in a professional and community setting.
Dr. Hedrick, originally from Valeda, Kansas, earned his DVM at Kansas State University in 1972. He practiced in Wichita for one year before joining a mixed practice in Glasgow, Montana. He then relocated to Bridgeport, Nebraska, in 1975 joining a mixed practice on the edge of the Sand Hills. Dr. Hedrick returned to Kansas in 1978 where he established the Bluestem Animal Clinic in El Dorado. After 25 year of practice ownership, he sold the clinic in 2003 and now does a limited amount of relief work in eastern Kansas.
"It is truly an honor to be recognized by the educational institution that prepared me for my journey as a veterinarian," Dr. Hedrick said. "This award confirms the excellent education I received at the Kansas State University College of Veterinary Medicine, which has been the foundation for my service to the profession and society."
"Many people would slow down when they retire, but Dr. Hedrick has continued to serve the profession in a variety of ways, including service to our college," said Dr. Ralph Richardson, dean of the College of Veterinary Medicine. "I believe that his state and national leadership in the area of veterinary licensure is unparalleled in the profession. It's because of this exceptional commitment to veterinary medicine that we are very proud to recognize Dr. Hedrick with this award."
Dr. Hedrick was appointed to the Kansas Board of Veterinary Examiners in 1998. He served on the examining board for eight years – the last four years as president. He was elected to the board of directors of the American Association of Veterinary State Boards (AAVSB) in 2003 and served as its director, treasurer and president (2007-2008). The AAVSB delegate assembly elected Dr. Hedrick to serve on the National Board of Veterinary Medical Examiners in 2008. He was chair-elect in 2009 and served on the executive committee for the next three years. He was selected a second time as chair-elect in 2013 and became chair during the July 2014 meeting in Montreal.
During the last three years, Dr. Hedrick has served on the interview committee for incoming students at the College of Veterinary Medicine. He has been a member of the American Veterinary Medical Association since he graduated in 1972 and is also a member of the Kansas Veterinary Medical Association, the latter which gave him a Distinguished Service Award in 2006. He has also been a board member of his local school board, U.S.D. 490, and Rotary Club where he was a Paul Harris Fellow.
Dr. Hedrick and his wife Diana, have two children: Krista and Nathan.